---
*Disclaimer: This recap of the NASCAR season is presented in the distant future through the eyes of two science fiction characters. It does not predict the future. Any piece of the fictional story that does come true is purely coincidental.
---
Dr. Cornelius and Dr. Ziran were horseback riding on the beach in late April 3019 when they came upon a metallic object protruding through the sand. "Do you see that dear?" Dr. Ziran asked her fiancé.
---
"Yes, I do," replied Cornelius. "You stay on your horse and I'll check it out."
---
He dismounted and started to pull sand away from the half-buried metal cylinder.
---
"What is it?" asked Dr. Ziran.
---
"There's an inscription: 'American Ethanol 2019 – for future generations,'" Cornelius read. "This is from one thousand years ago! Hm, ethanol was being used way back then? They were way ahead of their time!"
---
"What is that thing?" asked Dr. Ziran excitedly.
---
"I think it's a time capsule! I'm going to open it up," replied Cornelius. "Let's see what it contains."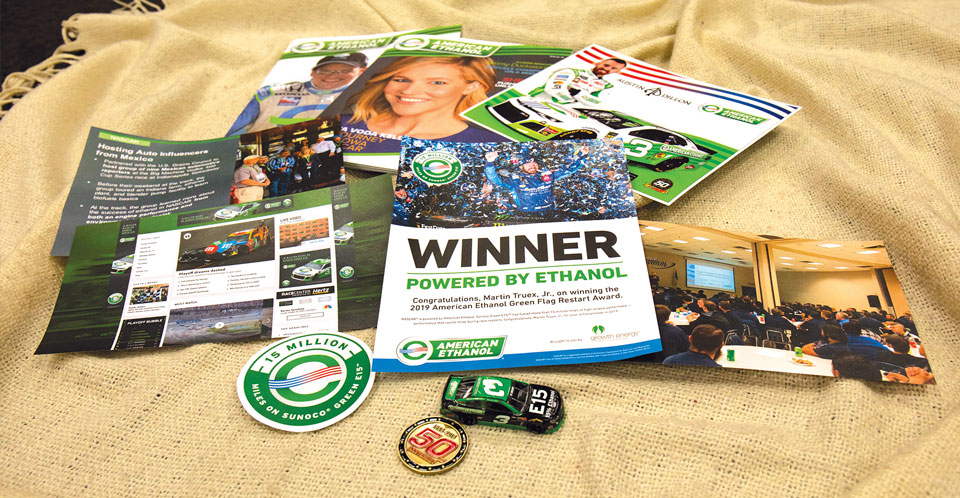 ---
He opened the capsule and handed the items one by one to Dr. Ziran.
---
"I know what these are," mumbled Dr. Cornelius. "They're periodicals, sometimes called magazines, printed on paper. This was probably before virtual translation was available. 'American Ethanol Magazine.'"
---
"Here's a note," said Dr. Ziran, "'American Ethanol Magazine continues to grow, seeking stories about the real power behind American Ethanol: the people. Krista Voda, Neil Young and Paul Dana all were on the cover in 2019.' These must have been famous trailblazers from that time."
---
"Look at this page, 'American Ethanol has been a partner of NASCAR since 2011, and E15 is in the fuel tank of every winning driver,'" Cornelius read aloud. "So they were an official partner of the largest motorsport in the world at that time.
---
"It looks like they even had their own racecar, a green and white automobile with the number three displayed on the sides," Dr. Ziran said as she held up the tiny model racecar. "I wonder how the diver fit in there," she joked as Cornelius rolled his eyes.
---
"It says here that Austin Dillon donned the American Ethanol colors six times that year, in Kansas, Daytona, Darlington, Talladega, Martinsville and Phoenix," said Dr. Cornelius. "Those are legendary places. And Austin is quoted as saying, 'It was a humbling and challenging season. I can't say I'm happy about finishing right in the middle of all drivers, but we have learned a lot and will be ready for 2020.'"
---
He then picked up another object.
---
"What is that?" asked Dr. Ziran
---
"It is a coin that says, 'Celebrating 50 years with Richard Childress Racing.' Wow, that's a milestone!" He exclaimed. "I bet they garnered a lot of exposure. That was their team partner, and they could tap into all their resources to pass along the positive message about ethanol."
---
"Look, here are a few photographs," said Ziran. "Written on the back of this one is, 'American Ethanol continues fruitful partnership with the Universal Technical Institute, educating future mechanics and their instructors.' It looks like they had two seminars that year with someone named Dr. Andy Randolph."
---
"What does the other one with all those people on it say?" Cornelius asked
---
"It says they hosted a group of auto influencers from Mexico in partnership with the U.S. Grains Council," she replied.
---
"Now, what in heaven's name is this, dear?" Dr. Ziran asked, holding up a shiny piece of plastic.
---
"That looks like some kind of decal – perhaps like one they would have put on a race car," replied Cornelius. "It says, '15 Million Miles.' Is there anything about that in the magazine?"
---
She pointed to a page. "This says, 'American Ethanol surpassed the milestone of 15 million flawless miles at the race in Phoenix. The fuel again performed perfectly under the most grueling conditions an engine can be pushed to,'" said Dr. Ziran. She paused and looked over at Dr. Cornelius. "What are you thinking about?"
---
"2019 must have been the turning point – the watershed moment. This was the point when biofuels really took off! I've read about it. Oil companies were trying to frame sustainability as their legacy, but it was American Ethanol that literally drove biofuels to where they are today: 100% of our fuel source. The American Ethanol team of 2019 never gave up and never quit. Let's gather this stuff up and bring it with us. This all belongs in a museum!"
---