---
Not too long ago my kids and I ran across what could only be described as the bounty of a lifetime: My daughter held up what first looked like a gray electrical box, but this was different. On the other side the cover was transparent, and inside we could see the brightest glowing lights that were pulsing from three corners to the center.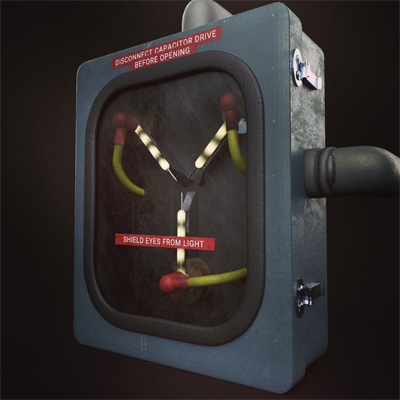 ---
"Oh my," I thought, "It was a flux capacitor with an energy generator!" These were the components necessary for time travel that was made famous in the 1985 science fiction film "Back to the Future." They were also the components that would allow us to take a trip back in time to see what racing used to be like and experience some earlier days of racing.
---
That Sunday morning we were dumpster diving. (I feel this activity encourages the kids to be frugal and enterprising even though my wife finds it repulsive and doesn't participate.) It was still dark, as an early start is essential to beat out other treasure hunters. I hid the flux capacitor under my shirt, and we hurried back to the garage to see if the flux capacitor was compatible with a Toyota Camry, as I didn't have access to a DeLorean.
---
After viewing a few YouTube videos and doing a little wrenching, we were set. I just needed to set a time and destination, and then we were off to the Interstate to reach the required 88 miles per hour needed launch our new time machine.
---
"If you could go anywhere, where would you guys want to go?" I asked the kids.
---
"'Tona Beach, Dad," replied Brinlee with her adorable pronunciation.
---
"Yeah, 'Tona Beach!" repeated her little brother.
---
They often heard me talk about Daytona Beach, and I had given them gifts of Daytona 500 T-shirts from my trips to the track. I plugged in Daytona International Speedway as the destination. Now, which one? I know: I wanted to go to the first 500 and see what that was like.
---
Being from Iowa, I remembered that a local racer named Johnny Beauchamp unofficially won the first Daytona 500 until it was overturned to Lee Petty after three days of NASCAR™ studying the photo finish.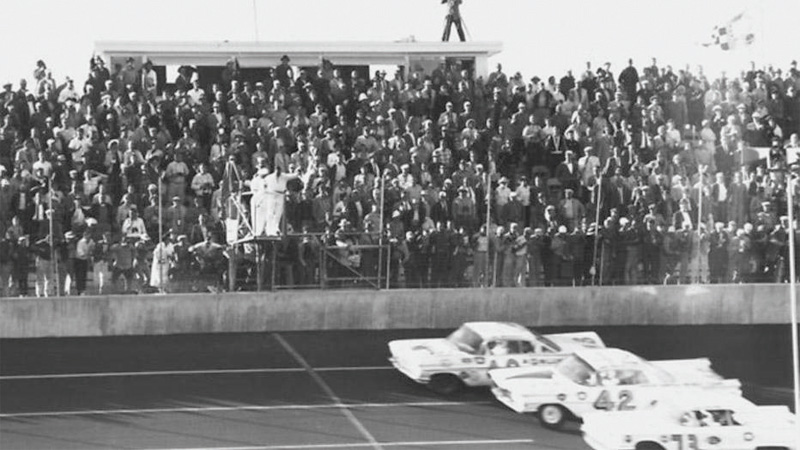 ---
The destination was set: Feb. 22, 1959. I set the return time so the three of us would be back before breakfast.
---
We landed, and I hid the car in some brush across from the track. We also were wearing our dumpster-diving clothes, so surprisingly we didn't stand out that bad, and I had $27 on me, which was plenty to sustain us all day with tickets and food. I keep a travel diary, and for this first mission I wanted to record what has changed from the first Daytona 500 to the 2018 500.

---
In summary, the Inaugural Daytona 500 was a lot different race than the one we celebrated in February 2018 when Austin Dillon took home the checkered flag. There were 59 racers on the track compared to 40 today. They would pit when needed for tires and fuel and just race 500 miles straight. The cars were spread out and it was up to the driver's wives to record what lap they were on — not that official.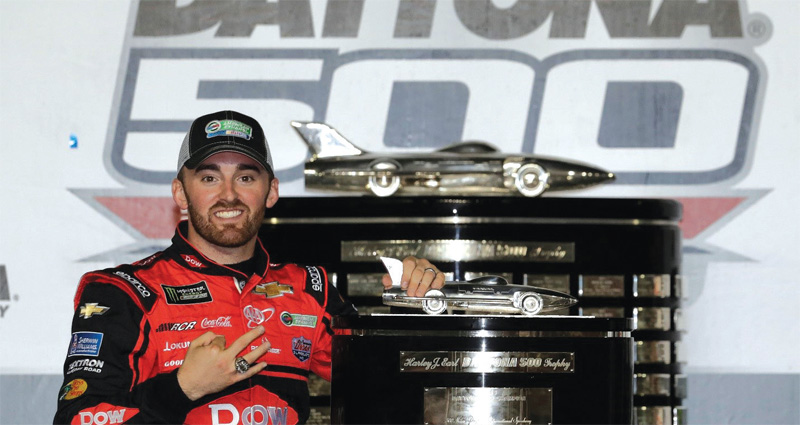 ---
Today the race is broken up into three segments, or stages, to keep up the excitement level of close car- to-car racing. There were no wrecks that day, which is good because the safety I witnessed was inadequate at best. The driver dawned a helmet and drove, hopefully latching the factory seat belt.
---
There were no fire suits or window net, and medical personnel was scarce. Teams back then weren't limited in the number of tires used, and the rules were easily bent. Cheating seemed to be encouraged unlike today where the playing field is monitored under a microscope and teams police each other. To be honest, I found today we get to see the most competitive racing in the history of NASCAR.
---
So while my visit to the 1959 original Daytona was a fun field trip, I much prefer getting to experience today's racing environment — no flux capacitor required.
---