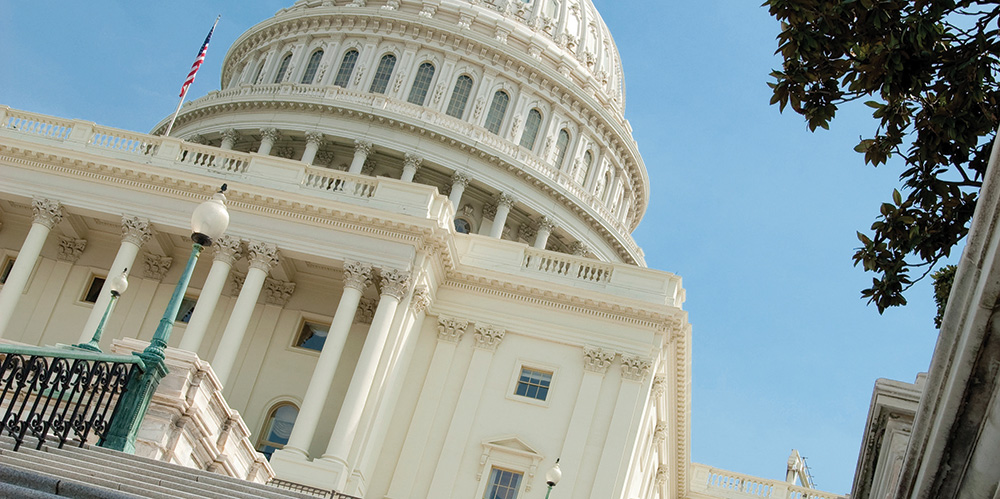 ---
On an overcast, late May morning in Dallas earlier this year, shareholders of oil goliath Exxon Mobil were crowded into a room, listening intently to company chief Rex Tillerson spin facts, figures, and findings to frame his latest report to investors.
---
Tillerson assured shareholders that the oil-based economy was here to stay. Issues like depletion of fossil fuels, impacts of climate change and need to reduce emissions were of little worry. "What good is it to save the planet," Tillerson demanded of the crowd, "if humanity suffers?"
---
This apparent disregard for the need to diversify the country's energy portfolio reflects confidence fueled by the mammoth power – and influence – the oil industry has enjoyed in safeguarding its territory, shaping regulatory action and shrugging off anyone or anything that might stand in its way.
---
Turf Protection
---
Bob Casper, President of POET Ethanol Products, says he's not surprised at all by the comment nor the money spent on lobbying, political contributions and misinformation campaigns. But it isn't about safeguarding the consumer, it's about safeguarding market share and profits.
---
Casper says Tillerson's comments that there is no sense in saving the planet if humanity suffers is more rhetoric meant to plant doubt in consumer's minds over renewable fuels. In reality, ethanol offers advantages – not suffering – for consumers.
---
"In an open and free market, the competitiveness of the product is what sets the price and what sets the value. Ethanol offers a gasoline component that is more competitive than anything that can be produced through refining, so the oil industry is looking at protecting their market share. But when their products are based on crude oil as an input, they are going to continue to lose market share to ethanol," he explains.
---
Unfortunately, Casper says the oil industry is doing everything it can to ensure there isn't an open market. "The regulation becomes the fortress of the incumbent because it is built around their product. It forms a barrier to entrepreneurs like the ethanol industry."
---
Tillerson has been known to openly mock alternative fuels in the past, something The New York Times pointed out four years ago when Exxon Mobil was grabbing splashy headlines with the announcement it was going to invest $600 million in biofuels over the next decade.
---
But that corporate mindset seems to have waned in the years since. Exxon Mobil has now backed off its earlier commitment to biofuel development and Tillerson's latest remarks seem to imply they won't be looking back.
---
Money Talks
---
Perhaps nowhere is the oil industry's true intention more evident than in its growing battle with the ethanol industry, a war it is waging with its wallet wide open.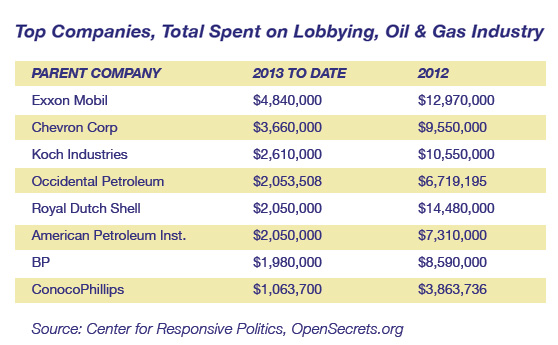 ---
According to the Center for Responsive Politics, the oil and gas industry spent $139,928,996 in lobbying in 2012, trailing only a few deep-pocket influencers like the pharmaceutical and insurance industries. The top spenders among oil companies for 2012 Dutch Shell, Exxon Mobil, Koch Industries, Chevron Corp., and BP. Exxon Mobil is leading the pack in 2013, spending about $4,840,000 in the first five months alone.
---
These totals dwarf lobbying expenditures of the entire alternative energy production and services industries combined, which spent only $23,767,825 total in 2012.
---
"The bottom line is when an interest group or lobbyist wants to have political influence, they create a narrative," explains Dave Ladd, President, RDL & Associates, a governmental affairs consulting firm in St. Paul, Minn. "It's important to create a tie to real people because those are the policy maker's constituents. Suddenly, it's not about Wall Street. It's about Main Street."
---
While fossil fuel groups have mobilized to defeat the extension of modest tax incentives for several renewable energy sectors, the century-old tax breaks for the oil industry remain permanent. The oil industry maintains the tax breaks are necessary, despite years of record-breaking profits during some of the country's most difficult economic times.
---
The oil and gas industry spent in contributions to Congress.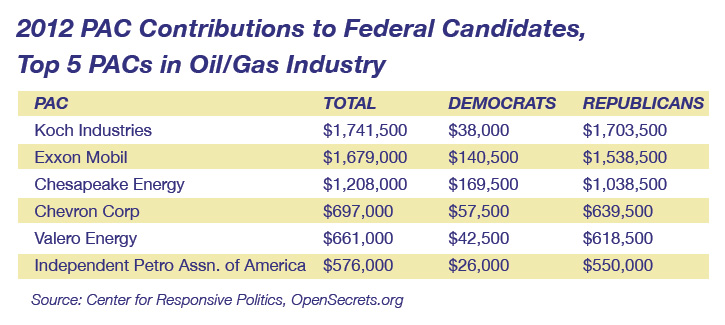 ---
Contributions to federal candidates, parties and outside groups in the 2012 election cycle totaled $71,483,299 with 55 percent of the industry's donations coming from individuals, 23 percent soft money and 22 percent from the industry's various political action committees (PACs).
---
The oil industry was able to take advantage of new unlimited money vehicles, super PACs and dark money nonprofits, spending tens of millions of dollars each month of the 2012 election cycle.
---
Revolving Door Politics
---
Bringing on experienced talent – people who understand the political process inside and out, who have allies on key committees and friends in key jurisdictions – is a tactic well-played by the oil industry.
---
"These guys know the players on the playing field, how to interact with them and what narrative will assist them in protecting their market share and enhancing the bottom line for shareholders," Ladd says.
---
In 2012, nearly 60 percent of lobbyists for the oil industry were former federal employees – members of Congress and senior congressional staffers – creating a common "revolving door" scenario with such lobbyists labeled "revolvers."
---
Best Interests or Big Interests?
---
The oil industry's ability to throw its weight around in the political arena is augmented by its advertising campaigns, which paint the companies as caring about the consumer and the environment, not profits.
---
According to The New York Times, over $150 million was spent on TV ads during the 2012 election cycle promoting fossil fuel interests, particularly oil and coal.
---
Early in 2012, Americans for Prosperity – founded and funded by the oil industry's Koch brothers – launched a campaign claiming clean energy stimulus dollars went overseas.
---
Meanwhile, oil lobbying organization American Petroleum Institute (API) ran its own ad campaign featuring API Chief Jack Gerard. In the ad, Gerard claimed oil production on federal land was down, resulting in rising gas prices. In reality, oil production was up 240 million barrels on federal lands and water.
---
With the election over, the oil industry has been focusing attention on the ethanol industry with a new vengeance. Currently in the crosshairs? The Renewable Fuel Standard and the Environmental Protection Agency's decision to allow a higher blend of ethanol for newer vehicles.
---
The API, representing 500 oil and natural gas companies, filed a legal brief with the Supreme Court in early June claiming that transportation fuels containing 15 percent ethanol could damage cars and trucks. Later that month, the Supreme Court announced they would not hear the challenge by the oil industry.
---
The appeal to the Supreme Court followed a U.S. Court of Appeals decision last August that trade groups representing the automobile, food and other industries did not have sufficient grounds to challenge the use of the new blend, known as E15.
---
The EPA okayed the new blend back in January 2011 and gave approval for it to go on sale in June 2012.
---
In addition to the E15 battle, oil interests have engaged the ethanol industry in a lengthy battle over the future of the country's Renewable Fuel Standard. The standard is an 8-year-old law that forces refiners to blend alternative fuels in support of the country's energy independence.
---
Casper says all the spending by oil companies are efforts to use regulations as roadblocks to ethanol.
---
"Regulations were built around petroleum. When defined for gasoline, no one envisioned ethanol as a component. So, we have to force ethanol provisions into gasoline regulations," he explains.
---
Planting the idea in consumers' minds that ethanol will damage their vehicles is another way the oil industry has moved an issue from Wall Street to Main Street, a narrative that is necessary to lend strength to their opposition to E15. But experts like Bruce Dale, chemical engineer, Michigan State University, have called higher ethanol blends, like E15, among the most tested fuels ever.
---
Casper points out that Brazil has been using 20 percent to 25 percent ethanol in gasoline for years without the dire consequences predicted by oil companies in the U.S. It's also important to remember, he adds, that no one will be forcing consumers to use 15 percent ethanol. Consumers will continue to have a choice.
---
It's likely the vigor of the oil industry's fight against ethanol and other renewable energies stem from the industry's lack of opposition when 10 percent ethanol became available at the pump. With another 5 percent market share looming with the approval of E15, the oil industry does not intend to be asleep at the wheel a second time.
---
"They lost 10 percent market share when ethanol started becoming competitive in the mid- to late-90s before they woke up. They are not going to do that again without a fight," Casper explains. "If they could compete, they wouldn't care. But they don't want a free and competitive marketplace. With that, they lose business."
---
But in reality, increasing domestic oil production means going after oil reserves that will be increasingly difficult to access. Those kinds of oil reserves will cost the nation a lot more, not just economically, but environmentally.
---
That's not a part of the story spun by the oil industry, however. "They create a narrative that may have some threads of legitimacy to it, but is not really a part of their true game plan. The game plan in this case is to protect their market share," Ladd says.
---
He says oil interests are well aware most consumers aren't going to look at what happened in Brazil, and they aren't going to look at scientific research and trials.
---
"Most people are just going to go by what they hear, even if it is anecdotal and not scientific. Oil companies know this, even though it is all about the overall goal to enhance the bottom line for shareholders. But to reach that goal, are you going to make it all about big corporations crying over competition or are you going to use a scare tactic about the safety of the fuel?"
---
"This is going to be a fight to allow an open and free market and it's going to be worth it," Casper adds. "We're in this fight because we know we can create a better value proposition than the oil industry can. And by creating value, we're creating prosperity. We're not going to give up on that vision."
---