---
On Friday, Oct. 4, the biofuels and agricultural industries celebrated a new reform package that will restore the integrity of the Renewable Fuel Standard (RFS), giving a sorely needed economic boost to rural communities across the Midwest and expanding environmental benefits across the U.S.
---
The reform package announced by the White House on Friday includes accurately accounting for small refinery exemptions, or SREs, beginning in the 2020 Renewable Volume Obligations (RVOs), eliminating regulatory barriers that restrict fuel retailers from offering higher biofuels blends, and adding infrastructure funding for E15 and E85, along with the President's commitment to resolve trade issues impacting ethanol.
---
Over the last several weeks, POET has been working closely with industry allies and elected champions in meetings with the White House to deliver this reform package and to stop demand destruction resulting from the illegal small refinery exemptions (SREs) and to support an expedited national rollout of E15.
---
Biofuels and agriculture industry advocates and elected officials across the heartland heralded Friday's announcement for what it means to farmers, biofuel producers and consumers.
---
POET Chairman and CEO Jeff Broin expressed thanks both to President Trump and to the tireless work from biofuels champions to secure this package.
---
"President Trump's announcement today has reaffirmed his commitment to farmers and rural communities and marks a great victory in the Renewable Revolution. The President's actions will restore integrity to the RFS — starting with the 2020 RVO levels — and help pave the way for the rollout of E15, creating a huge win for farmers, biofuel producers and consumers alike. Millions of Americans will see greater savings at the pump and have the freedom to choose climate-friendly, American-made E15, while our nation's farmers will see increased demand for their grain at a critical time.
---
On behalf of all POET team members, we sincerely thank President Trump. We're grateful for his leadership and the relentless support from our champions, Senators Ernst, Grassley, Thune, Rounds, Fischer, Sasse and Governors Reynolds, Ricketts and Noem," Broin said.
---
Growth Energy, the nation's largest ethanol association, also called the announcement a key win for rural America.
---
"It's been a long process, but when the chips were down, President Trump delivered for farm families and biofuel producers," said Emily Skor, Growth Energy CEO, in a statement. "This is a victory for rural America, and we are grateful to our champions in Congress, USDA Secretary Perdue and governors across the heartland who fought to put homegrown energy back on the market. We also thank President Trump for hearing the voices of farmers and biofuel producers and his commitment to finding a solution that will make an immediate difference for rural families."
---
Sen. Joni Ernst (R-Iowa) applauded President Trump for keeping his commitment to farmers and biofuel producers, saying the package will help increase demand for biofuels and provide hope for farmers and producers.
---
"This is great news for Iowa and rural America. President Trump is following through on his commitment to our nation's hardworking farmers and biofuels producers. The RFS is essential to the livelihoods of folks across our state, which is why I've been fighting tirelessly on behalf of Iowa's farmers and producers every step of the way and making Iowans' voices heard throughout this process. Our message was clear: uphold the RFS — 15 billion means 15 billion. The President heard that message and has acted on it. The steps outlined today by the administration will help increase demand for our biofuels, provide certainty for farmers and producers for years to come, and ensure that EPA is implementing the RFS as it was written."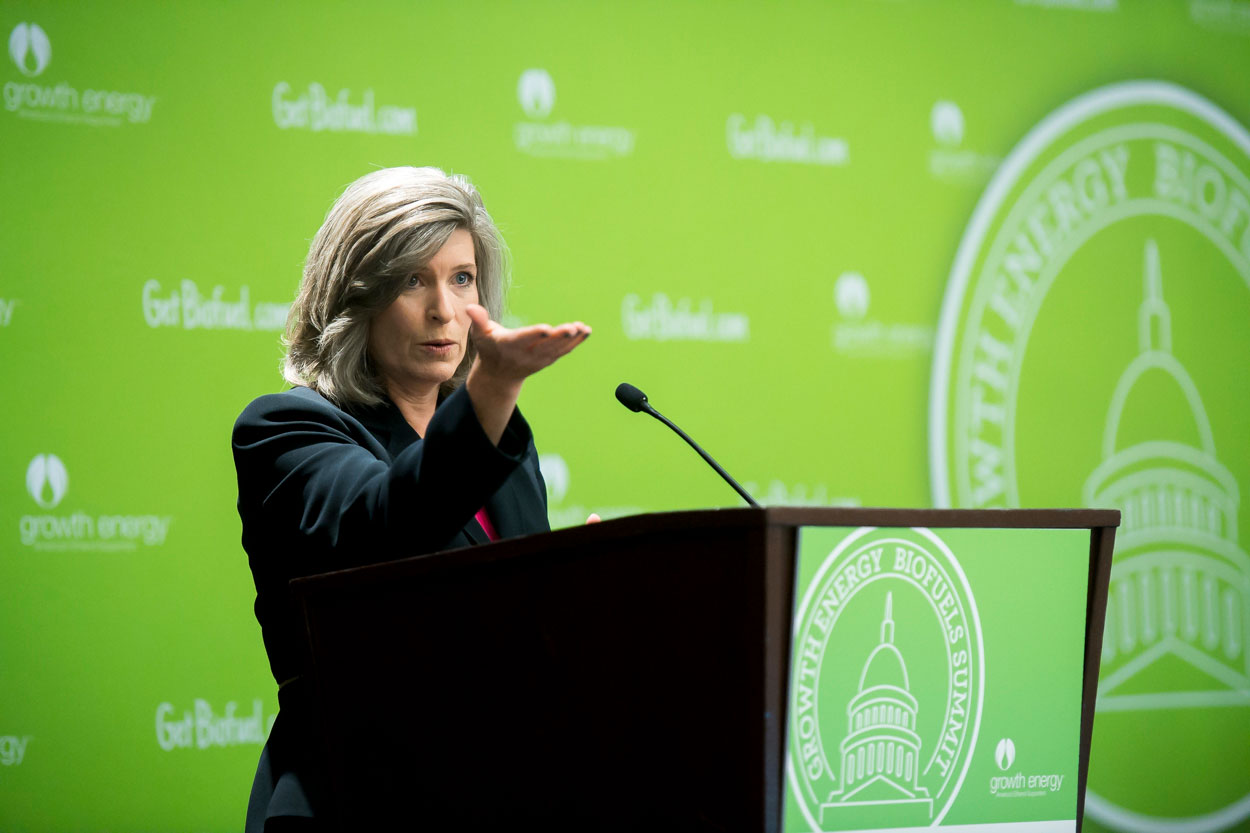 ---
Sen. John Thune (R-SD) praised the Trump Administration's commitment to agriculture with Friday's reform deal.
---
"I want to thank the President for standing up for farm country and sticking to the commitment he recently made to me and several of my farm-state colleagues in the Oval Office," Thune said. "The President understands that the agriculture community is hurting, and while I look forward to seeing the final details, this announcement builds off our E15 win and points to a new and brighter day at the EPA."
---
POET, Growth Energy and biofuels advocates will now turn attention to the EPA to follow the President's directive and implement these policies.
---
"To restore growth and revitalize farm income, it's vital that the EPA stay true to the President's promise, and we will be working closely with leaders in Washington to ensure that happens," Skor said. "What matters now is how quickly we can restore demand for U.S. farmers and put biofuel gallons back to work for America's economy."
---
Submit Your Thank You to President Trump and Biofuels Champions
---
Submit your thank you note to President Trump and our champions! POET will print your personalized note and deliver it in Washington to biofuels champions. Visit https://poet.com/thankyou to submit your thank you.
---
View POET's press release: POET Applauds Trump for Blocking Corrupt Oil Tactics
---
---