---
During the past few decades, biorefineries have gotten pretty good at what they do. They've nearly prefected the processes and technology to create ethanol, valueadded products and co-products, including distillers grain, high-protein animal feed and CO 2. But as times and needs change, so must these facilities.
---
Continued success will require focus on the energy needs of today while also developing technologies for the biorefineries of tomorrow. For example, fractionation technologies pioneered by POET, combined with BPX™ technology, which converts starch to sugar, which then ferments to ethanol without heat, offer enormous potential for the industry. The BPX process reduces energy costs, increases yields and decreases emissions. "BFrac," the company's fractionation technology, creates additional value-added products (such as Dakota Gold HP™, a distillers dried grain with a higher protein content) and streams, in addition to increasing ethanol yields.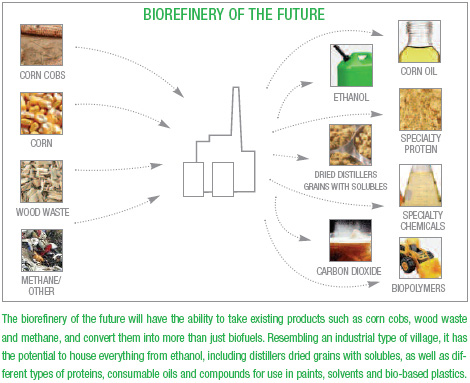 ---
"One of POET's strengths is its ability to integrate biology and engineering to achieve novel and innovative solutions," says Mark Stowers, POET's Vice President of Research and Development. "Our BPX process is a good example. By understanding the biology of the process of ethanol production, we were able to develop the BPX process to produce more ethanol during fermentation, get more ethanol out of a bushel of corn, produce a higher-quality distillers' grain, Dakota Gold®, and at the same time reduce our energy requirements to produce ethanol by eight to 12 percent."
---
Stowers envisions an ever brighter future as the result of fractionation. "We see an opportunity to replace the feedstocks for the $1.4 trillion chemical industry, which are now derived from fossil fuels, with renewable feedstocks that are a result of the fractionation process," Stowers says. "The biorefinery of the future will help to reduce our dependence on foreign oil for transportation fuels, and plastics, textiles, food and pharmaceutical ingredients and consumer goods."
---
New Strategies Take Shape
At POET Biorefining – Chancellor, S.D., the facility's expansion includes a solid waste fuel boiler that will generate enough steam to produce more than half of the plant's power needs. In addition, methane gathered from the nearby Sioux Falls Regional Landfill will replace a portion of the natural gas currently used at the ethanol production facility. The combination will replace more than two-thirds of the plant's natural gas usage in its first full year of operation, and within the next 15 years, it could nearly eliminate the facility's reliance on natural gas.
---
Meanwhile, at POET Biorefining – Emmetsburg, Iowa, the company is moving beyond the traditional corn-based ethanol to expand into the cellulosic ethanol market. This process uses plant materials as the primary ingredients. The Emmetsburg facility looks to be one of the first to produce this on a commercial scale by using corncobs as its feedstock for conversion to alcohol.
---
Project LIBERTY is a joint funding arrangement with the U.S. Department of Energy and POET. The partnership will help the Emmetsburg plant modify its operations to allow it to produce ethanol from cellulose or biomass, in addition to producing ethanol from corn. Conversion of feedstocks such as corn cobs and fiber from corn kernels could become the foundation that pushes the industry to convert other cellulosic feedstocks into renewable energy.
---
The Emmetsburg facility is slated to be operational in 2011. The plant is expected to harvest cobs from about 275,000 acres of corn, giving local farmers a second valuable product to harvest. The overall result could increase the yield of fuel ethanol by 38 percent per acre of corn. Once successful, the technology can be exported to other biorefineries as well.
---
The construction required for Project LIBERTY will be augmented by Project Bell, POET's research and development effort to bring cellulosic ethanol to commercial production. As part of this process, POET will develop innovations in the areas of corn cob collection, storage and transportation; biomass pretreatment to allow a more efficient breakdown of the corn cob; enzymatic hydrolysis to produce fermentable sugars; and fermentation to produce cellulosic ethanol. Its deployment will include an expansion to the existing research center in Scotland, S.D., to house those charged with the science and engineering tasks associated with validating POET's integrated approach to the cellulosic biorefinery.
---
"The science, engineering and economics validated at POET Research Center will be used across many of the POET businesses and will validate commercialization of developed technologies," says POET Director of Expansion Projects Jeff Heikes. "Project Bell will allow POET to understand the operational requirements to manufacture cellulosic ethanol in a safe, efficient and profitable manner. It is critical to the deployment of cellulosic ethanol technology and the future of removing our country's dependence on foreign oil."
---
Stowers believes the innovations will be successful in the commercialization process. "Cellulosic ethanol will emerge over the next 10 years with the main supply of cellulose coming from corn—either corn cobs, corn fiber [from the kernel] or corn stover," Stowers predicts. "Cellulosic ethanol will represent a significant and growing portion of the total ethanol produced in 2018."
---
A LOOK AHEAD
---
As ethanol becomes more prominent, the added biorefineries will occupy a much different environment than facilities used to process petroleum.
---
"When you think of what our ethanol business model is [compared to the traditional oil facility], it's almost like contrasting a mainframe computer of 20 years ago with what we see today, a powerful desktop model with a multi-level peer-to-peer network," says Scott Weishaar, POET Director of Business Development.
---
The traditional oil facility is very large, dated and located in coastal areas, making the shipment of coproducts to centralized regions very expensive. POET's biorefineries, by contrast, are anchored in regional communities in the heartland, a trend likely to continue in future years. By producing co-products in the corn belt, POET will be able to service customers with different needs while reducing shipping and transportation costs.
---
"The core structure [of biorefineries] will pretty much remain as we see it today, but I can visualize down the road a more modular design, an industrial type of village," he adds. "We'll have a multi-faceted complex that could house everything from ethanol and [distillers dried grains with solubles], to different types of proteins, consumable oils and compounds indented for use in paints, solvents and biobased plastics."
---
Stowers is bullish on the extended future, but points to corn as a main contributor in the near future.
---
"The corn plant will be the predominant feedstock and will continue for some time," he says. "The ability to produce more corn per acre, while fertilizer and pesticide use continues to be reduced, creates a long-term platform for corn as a feedstock without increasing the number of acres to produce corn and impacting other markets for corn."
---
As the belief that corn is the "new oil" gains traction and the market for biofuels expands, POET will continue to be well-positioned as the innovation leader in biorefinery design and renewable energy development as it looks to revolutionize the industry.
---