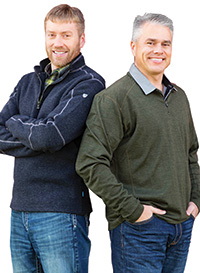 ---
I recently pulled some statistics from the USDA that I found interesting. Only about 25% of soybean farmers are fertilizing their fields, and just 18% of wheat farmers are applying potassium, which is a key to standability and a big component of yield in all crops.
---
Also, if we look at the average use rates of fertilizer across the board in our country, we're falling short on both P & K in most rotations. On average, corn farmers are applying 10 pounds less phosphate than what the crop is removing, and that's assuming all the residue is staying in the field, which it obviously doesn't. Soybean farmers and wheat farmers are also applying less than what they remove in terms of phosphate.
---
With potassium, the highest deficiency occurs in soybeans. If you figure 45 bushels is our national average, that crop removes about 53 pounds from the field when the grain is hauled away, but the average returned to the soil is just 23 pounds of potassium fertilizer.
---
Many farmers in our area are now shooting for 225 bushel corn and 60 bushel soybeans. In this 2-year rotation, did you know that just with the grain only removal, assuming all the residue is left in the field, a total of 127 pounds of K2O potassium and 123 pounds of phosphate have left the field forever? Are you applying 212 pounds of potash and 237 pounds of MAP every 2 years just to replace what you've removed? If not, you're falling behind.
---
Before you decide on the fertility program for your farm, we encourage you to download the free Ag PhD Fertilizer Removal app that we developed in conjunction with the International Plant Nutrition Institute and Agro-Culture Liquid Fertilizers. You can select your crop and your yield goal. The app then tells you how many total nutrients you need, as well as how much will leave the field with the grain.
---
Here's why this is so important. My assumption is when you started farming, whether that was 30 years ago or last year, you probably set out with the objective to "leave the land in better condition than when you started farming." That's what most farmers tell me they are trying to accomplish.
---
That's a great goal, but ask yourself this, if you are removing more fertility than what you apply, is that building the land or is it mining the soil?
---
Certainly one of the challenges over the past few years has been the high cost of fertilizer to go along with high cash rent. What I often encourage landlords to do is have a discussion with the tenant or simply put it in the contract that whatever fertilizer you remove must be replaced each year, including sulfur and micronutrients. Since a 225 bushel corn crop or a 60 bushel soybean crop could easily remove $75 or more in P, K, S, and micros, I understand that's a big bill. What's happening today on most cash-rented ground is instead of replacing that $75 in fertilizer, the $75 is going toward the rent bill. That's why I often suggest a reduction in land rent, with that reduction going toward a portion of the fertilizer bill.
---
Since yields have gone up so dramatically in all crops over the last 20 years, this may not have been a big issue for your Dad or Grandpa. Since most ground used to be rented on shares 20 years ago, that also made a difference. Today, soil fertility levels are depleting at a faster pace than ever, so it's something you need to at least discuss in your operation.
---
Our advice is to soil test, use plant tissue analysis, and learn all you can about what is likely the biggest expense (or investment) on your farm, fertilizer. For more information about this important topic, go to www.agphdsoiltest.com.
---