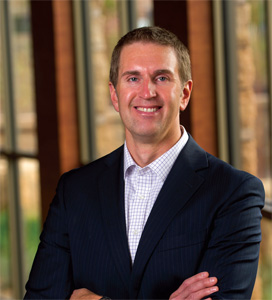 ---
2012 has certainly been a year of change here at POET.
---
We've seen industry changes through the expiration of the tax credit and tariff. We've entered, for the first time, into a joint venture through POET-DSM Advanced Biofuels, which will now lead our cellulosic commercialization efforts. And of course, there is the change at CEO, which I've been honored to be a part of.
---
In my first column for Vital, I'd like to share with you some of the philosophies in life and business that have shaped me and that will factor into my new role as CEO of POET.
---
I learned early in life that working hard was the most direct path to success in life, more important than intelligence, education, connections and many of the other things we often prioritize in our professional lives. Without hard work, none of those things pay off.
---
That notion was already ingrained in me when I started, at age 19 as an engineer at Crimson Fire, a fire truck manufacturer based out of Brandon, S.D.
---
I set out to make the most of the opportunity: soaking up whatever I could from more experienced people around me, working long hours, taking advantage of opportunities for more responsibility. After a series of promotions to management positions, I took over as President when I was 26.
---
An early mentor of mine, George Sztykiel, a Polish immigrant who co-founded Crimson Fire's parent company Spartan Motors, Inc., taught me a lot about leadership, decision-making and good living. He also valued a good day's work above all else in business. "Perspiration always beats out inspiration," he told me.
---
Luckily POET has both inspiration and perspiration in spades. In fact, "luckily" isn't the right word, because our teams have been built with that in mind. That's certainly a principle that will continue to be practiced here.
---
As the CEO, I will take advantage of the wealth of talent and strong work ethic at POET as well as our partners on farms and in towns across the Midwest. When you're in a leadership role, you expect to make a lot of decisions. But it doesn't mean you're on an island. There are a lot of people around you with a lot of experience providing valuable input.
---
Part of being able to appreciate and focus the experience of the entire team comes from the understanding that, as a CEO, I don't know everything. I don't need to. What's important is the ability to get people to work together toward common goals. I am most proud of the times I've been able to harness the power of a group of people and help the group accomplish great things. I look forward to even more of that in the future.
---
That's what I love about POET. We have tremendous resources, great people, an inspired vision and the will to get things done. We will need every bit of that as we go forward.
---
There are certainly challenges ahead for POET as we navigate the changing energy environment. There are new laws, new products to commercialize, new efficiencies to find and more. But when I look back at what we have already accomplished here, it gives me confidence. We have successfully gone over so many hurdles already, it makes what is in front of us look small.
---
I am honored that Jeff Broin has entrusted so much to me in this transition at the CEO position. I look forward to continuing tapping into his broad experience here. I'm also honored to be leading such a fantastic team. I know we will continue to achieve great things.
---