---
From unemployment and uncertainty to incredible success in the business world, Bob Casper has relied upon one constant, steady guide: faith.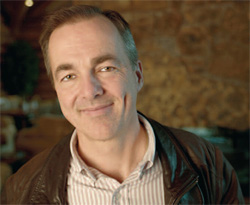 ---
The president of POET Ethanol Products believes you must focus on the solution, not the problem, have integrity and everything will turn out just fine.
---
"If I do the right things, whatever the outcome is, it's the perfect outcome," Casper says.
---
Wichita, Kan.-based POET Ethanol Products is the largest marketer of ethanol in the United States. The company contracts with ethanol producers to provide transportation, logistical and marketing support for their products, including carbon dioxide (CO2), denaturant and ethanol.
---
Prior to Ethanol Products, Casper, who grew up in Louisville, Ky., worked for 21 years for Wichita-based Koch Industries, which owns companies in the refining, chemicals, minerals and fertilizer industries, among others. But despite his hard work and dedication to the company, he found himself abruptly out of a job in 1999.
---
"In the last year and a half, there were some changes, and I wasn't a part of those changes," he says. Casper had lost his job with a company he helped build and was faced with the question of what he would do with his life. He learned that some things were beyond his control and that he needed to trust a higher power to find the right path.
---
"I learned in the process that I have to have faith," Casper says.
---
Casper explored job opportunities around the country, but none were the right move for his family. So he looked to his own experience for guidance.
---
"I had started up businesses before, so I thought, 'Where is the opportunity?'" he says.
---
Ethanol was his answer. He took a leap of faith and started his own business in the young industry. Casper first considered building an ethanol plant, but his initial analysis showed plants just didn't have the profit margins for which he was looking.
---
"I remember taking that whole file … and throwing it [aside]," says Casper of his early research. Then it occurred to him that perhaps the market was the issue, not the ethanol plants or products themselves.
---
"'How could ethanol be oversupplied in this market?'" Casper recalls asking himself.
---
At the time, petroleum companies were experiencing difficulties with the fuel additive methyl tertiary-butyl ether (MTBE), which had made its way into the water supplies of several areas and contaminated the drinking water there. Casper knew petroleum companies would need a new octane for their gasoline, particularly something more environmentally friendly. And ethanol fit the bill.
---
In early 2000, Casper approached POET with the idea for Ethanol Products, and the two became partners in a quickly thriving business. And one year to the day that he was fired from Koch, Ethanol Products opened its doors for business. "[Casper] was instrumental in taking the initial work of Ethanol Products to a more dynamic, in-depth level," says Jeff Broin, CEO of POET.
---
Under Casper's leadership, Ethanol Products—which represents ethanol producers in the marketplace, handling all the transactions of the sales—has become a formidable presence. Since its start in 2000, the company has gone from 98 million contracted gallons per year to sales of 1.78 billion contracted gallons in 2008, with 33 plants under contract. Early this year, the company plans to move into a new 30,000-square-foot facility.
---
Casper says his faith-based business approach has played an important role, but he attributes the company's success to the people who work there.
---
"To me, I've always believed that the people you bring into the team are the ones who make that happen or not," he says. "They become the main driving component of the business."
---
Casper constantly analyzes the ethanol market in search of new opportunities, from the transportation and logistics of distributing ethanol to a future of delivering ethanol directly to gas stations. "He's an unbelievable analytical thinker," says Steve Seabrook, Director of Business Development for Ethanol Products.
---
"There have been periods of time when I'm thinking 30, 60, 90 days ahead. And when you talk to him, he's thinking two years ahead."
---
Casper's focus is always on what ethanol can provide the market and doing business the right way. Says Bob Whiteman, Chief Financial Officer of Ethanol Products, "His responsibility is to conduct the business with integrity and add value to the people we're doing business with. That core tenet is at the heart of our success."
---
That, and a little bit of faith.
---