---
For a city of its size, Marion, Ohio (population 35,841) has an impressive history of notable people: everything from a U.S. president, to major league baseball and football players, a Miss America, an Olympian, famous musicians, and more.
---
That storied history also includes an economy that's been anchored in the area's rich agricultural and heavy equipment manufacturing. Products from the Marion Steam Shovel Company dug the Panama Canal, while later (then known as Marion Power Shovel) it produced the crawler-transporters that moved Saturn V rockets to the launch pad for NASA's Apollo program.
---
But the 1970s began an extended downhill slide for the community. Marion lost much of its manufacturing base.
---
"Marion is like a lot of other Midwestern manufacturing cities that lost their way during that time period," says POET Biorefining – Marion General Manager Cliff Brannon. "Many of them are still struggling to respond to those challenges."
---
One piece of Marion's economic revival puzzle fell into place in 2008. POET was expanding its operations into the eastern Corn Belt and in that year brought two new plants online in northeast Indiana and three more in northwest Ohio. The Marion biorefinery was the Buckeye State's third POET plant, commencing operations in October of 2008. It followed sister POET plants that came online at Leipsic, Ohio in January, and Fostoria in September.
---
As timing would have it, the end of 2008 was a tough time for new plants to be entering the ethanol industry. A crumbling world economy, $6 to $7 corn, and a surplus of ethanol resulted in a number of ethanol's major and minor players falling by the wayside. But with POET's established knowledge and experience base, all of the new plants survived and ultimately became important members of the POET family.
---
Today, POET Biorefining – Marion (which is POET's easternmost plant, as well as its last constructed) annually produces over 68 million gallons of ethanol and 178,000 tons of premium, high-quality Dakota Gold® distillers dried grains (DDGS) from 24 million bushels of locally sourced corn. It also employs 40 people in skilled, high-paying jobs, plus supporting many more spinoff jobs in the area's related industries and businesses.
---
"Our team is very dedicated and versatile," says Brannon. "We've asked them to do a lot of different things, and they've always stepped up to the challenge. They're also very focused on finding ways to operate better and improve the plant, which is very refreshing."
---
Although less than four years old, the state-of-the-art plant has already made some significant upgrades, adding Total Water Recovery™ earlier this year, and in June, it became the first POET plant in Ohio to add corn oil separation. It has also established itself as a valued community partner and doer of myriad good works, including the restoration of a community park in nearby Caledonia.
---
"We're extremely pleased to be part of the Marion community," says Brannon. "Over the past few years they've made significant strides in diversifying and rebuilding their economic base, and we're glad to be at least a part of that process. I also know many farmers who can't say enough good things about what ethanol has done for them, their operations and their families. When you hear those kinds of things, it's a very good feeling."
---
Talking About Ethanol in D.C.
---
At the time of this writing, POET Biorefining – Marion General Manager Cliff Brannon had just returned from a business trip to Washington D.C. where the goal was to educate Midwest legislators about ethanol. Brannon was part of a Growth Energy group that included almost all POET general managers, GMs from other ethanol plants, and allied industry partners.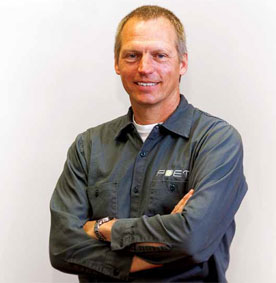 ---
Once in the nation's capitol, the group broke down by state and met with senators, congressmen and their staffs. On this trip, the primary areas of focus were on looking for ways to make E15 more accessible in the marketplace and warding off attacks on the Renewable Fuel Standard. Brannon says that overall, it was a productive trip.
---
"Most of our Ohio senators and representatives were very supportive of agriculture and the benefits it brings to farmers and rural communities," he said. "But some were more knowledgeable than others, so we had to work at times to bring people up to speed."
---
Growth Energy CEO Tom Buis said it is important for industry leaders to increase awareness of ethanol. "Participation in our fly-ins continues to grow as those invested in the industry take the time to deliver an important message to Congress. We are thankful for their efforts as we seek to shape a fruitful discussion on the merits of ethanol and importance of the Renewable Fuel Standard."
---
Brannon said one member of the group was a contractor who specialized in farm buildings and grain bins. He told the congressmen that thanks to ethanol his business had never been better, which helped the congressmen better understand that the benefits of ethanol extend well beyond biorefining.
---
Brannon said Growth Energy coordinates trips to Washington about twice a year, and the effort is very worthwhile.
---
"The policies and regulations that come out of Washington have a tremendous impact on the ethanol industry," he said. "Our elected representatives are getting a lot of misinformation from our competitors and our adversaries. We want to make sure they're hearing a true and balanced story as they make decisions for our industry and our country."
---
Looking for a New Challenge
---
POET Biorefining – Marion Commodity Supervisor Scott Iles has been with the plant from the beginning. Actually, before the beginning.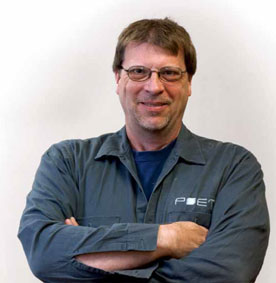 ---
"I was a warehouse supervisor for a major appliance company, but I was looking for a new challenge," he recalls. "One day I was looking online for job possibilities and saw a listing for a warehouse supervisor for POET Design and Construction, which was preparing to build a new ethanol facility at Marion. I didn't know anything about ethanol, but it sounded interesting, so I applied and was hired on the spot."
---
Iles remembers that in the early days, ethanol was still new to Ohioans, and there was some apprehension about the coming of a new plant.
---
"There were some mixed reactions," says Iles. "Some people were concerned about our 'smoke stack' (thermal oxidizer). But once they learned how we operated and were regulated, most people accepted us pretty well."
---
After construction was complete, Iles transferred from POET Design and Construction to full-time plant staff. Four years after accepting his new challenge, Iles feels good about his decision.
---
"I like the people I work with; they're a great group. We're really a close-knit family whose relationships extend beyond work," says Iles, who likes to do home modeling projects and spend time with his nine grandkids off the job. "I also enjoy spending time with farmers and getting to know them, and I enjoy the variety in my job. I'm glad I made the decision to come here. It's made me a stronger person."
---