---
First impressions count. You don't get a second chance to make that first impression. Trust us on this.
---
So it's a good thing that Emily Skor, Growth Energy's new Chief Executive Officer, comes off as a person you'd really want to hang out with. Someone you'd want to take time out of your day for – drink coffee and converse, swap a few stories about things inconsequential or debate the serious issues of the day.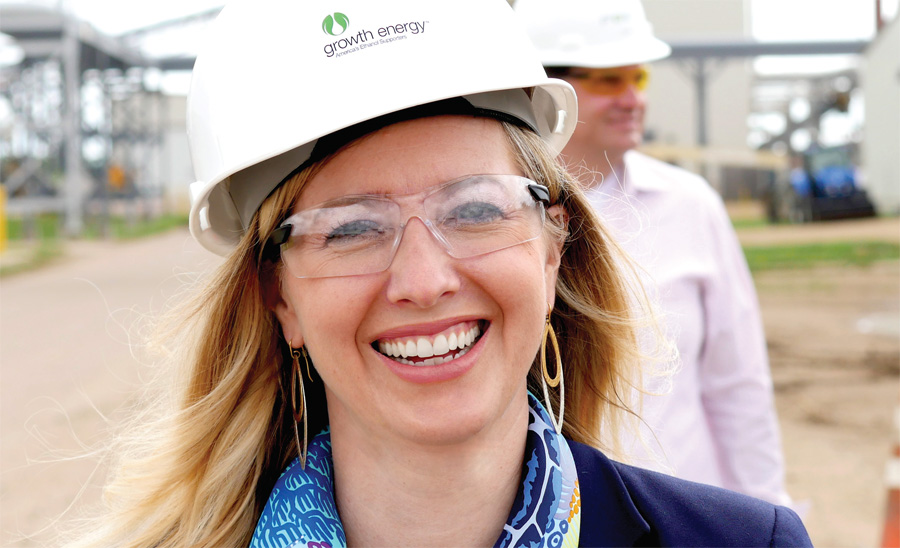 ---
Because Skor is quick with a story. And she's self-effacing, gracious, attentive and passionate – all at the same time. "Vital wants to do a profile on me?" the 41-year-old sincerely asked. "Oh, my gosh, I'm going to have to make myself interesting." These are qualities that have not been lost on Growth Energy's Board of Directors – and its outgoing CEO Tom Buis.
---
"Emily's vision and passion, combined with her successful track record integrating policy and communications into strategic campaigns as well as leading cross-functional organizations make her a natural successor to guide this organization into the future," Buis said. "Her experience in consumer engagement will help Growth Energy reach new audiences and raise awareness regarding the benefits of ethanol, driving market development and consumer choice."
---
"She's one of the most professional, intelligent executives I've ever interacted with," said Mitch Miller, Chief Executive Officer of Carbon Green BioEnergy and a Growth Energy Board Member. "She just brings a new and fresh insight, and her approach is exactly the direction we want to take."
---
Skor's journey to Growth Energy's CEO has been non-traditional, to say the least. Before joining Growth Energy on May 16, she served as the Vice President for Communications of the Consumer Healthcare Products Association (CHPA) and the Executive Director of the CHPA Educational Foundation.
---
At CHPA, a member-based trade association advocating for consumer healthcare products and serving as leader on regulatory and scientific issues for the industry, Skor oversaw public affairs campaigns, integrating strategic communications into legislative campaigns and coordinating ally development.
---

Before joining CHPA, Skor served as Senior Vice President at Dezenhall Resources, a nationally recognized crisis communications and issues management firm. For more than a decade, she helped Fortune 500 companies and industry associations manage issues affecting brand confidence and corporate reputation through media, advocacy, coalition building and consumer education campaigns.
---
"I think I happened to come onboard during a - dare I say - a particularly dynamic time of the industry," Skor said from her Growth Energy office in Washington, D.C. "My third day on the job was the day that the EPA issued its proposed rules on the (Renewable Fuels Standard). And the fact that I'm coming onboard in the year where you have a Presidential election, well, that's quite a dynamic there.
---
"I think I've come to a very busy, very dynamic industry on a regular day, so there have been some extra-fun, exciting things to welcome me," she added. "But I welcome that, because it's trial by fire."
---
A Minnesota native, Skor grew up in a home that stressed that she – and her three sisters – could be anything they wanted to be. Skor played tennis – she competed in college at the Division III level – and also played classical piano. She entered Wellesley College, an all-woman's liberal-arts college near Boston, on a political science tract. But found her calling in communications after working as an intern for the Washington, D.C.-based think-tank The Center for Defense Information. It's where she fell in love with the art of the message by helping co-produce a 30-minute television segment for the Public Broadcasting Service. The topic? Chemical and biological warfare.
---
"As a woman, growing up in a household with only daughters, and then going to an all-woman's college as I did, you learn that gender becomes irrelevant," she said. "Because there's no comparison. So in a family, you can't say, 'Oh your brother will lift the heavy couch,' or "Oh, your brother will go chop the firewood.' You do it all. That environment, those two things combined, growing up with all girls and going to Wellesley, has been very influential for me. Because it gave me the confidence to do things irrespective of gender."
---
It's another point that is not lost on Growth Energy's board.
---
"I think this is important and I need to mention this," said Steve Bleyl, Executive Vice President for Ethanol Marketing for Green Plains Inc., and a Growth Energy board member. "This is a predominately male-oriented industry – I think that is fair to say. So one of the things is, you're bringing in an outsider in, with limited knowledge of the industry who also happens to be female. And I thought that was a concern when I read through her resume, and when you meet her face-to-face, you get over that in a heartbeat."

---
Skor's hire signals a new direction for Growth Energy, which was launched in 2008 and "represents the producers and supporters of ethanol, who feed the world and fuel America in ways that achieve energy independence, improve economic well-being and create a healthier environment for all Americans now."
---
In short, Skor is tasked with bringing the message of ethanol directly to the consumer – whether it be a millennial in San Francisco, a mom in Sioux Falls, SD, or a taxi driver in New York City.
---
"We're very good at tailoring our message to politicians," she said. "We need to do the same thing with consumers. And that's the real pivot for Growth Energy and for all of our partners – it's to build consumer narrative that talks to consumers in their terms. Before I came onboard, Growth Energy did some research on this and very much validates this.
---
"Millennials are much more likely to consider higher blends when they understand how much it reduces their carbon footprint – the equivalent of taking millions of cars off the road," she added. "Parents are more likely to consider higher blends when they understand the clean air benefits for their children. And I think one of the values of me coming in as an outsider is that before this job, I never thought about ethanol, I never thought about corn farmers – and I'm from Minnesota! But I put as much gas into my car as the next person. So talk to me in terms that resonate with me as a parent. I have two young children and you know what? I can make the air a little more clean with a simple decision at the pump."
---
To that end, Growth Energy debuted a new consumer website (GetEthanol.com) in September, and will aggressively engage people across a variety of social media platforms, including Twitter, Facebook, Instagram and Snapchat.
---
"It's the message, but it's also the messenger," she said. "It's getting trusted voices – it's mothers, it's car mechanics, it's trusted leaders in the community. And the vehicle – how do you talk to people? You meet them in their social space, that's where they are, that's where they want to have conversations."
---
"I wanted someone who was more commercially-orientated," Bleyl said. "And by commercial, I mean communications to the businesses. That was my number one goal. I wanted to be able to say I'm not going to fight this in the courts of law, I don't want to fight it in mandates in Congress and say we need to do this. I want someone who is going to take us to the next level through – dare I use the word – marketing."
---
"You excite people on not telling them how (ethanol) is made, but excite them in what it can do for them," Skor said. "And we're going to do that in the digital space. And those platforms will be audience-driven."
---
When not bringing Growth Energy's message of clean, renewable energy to the masses, Skor keeps busy with family and volunteers on various boards. She's married to Sean Cairncross, the Republican National Committee's Chief Operating Officer. The couple have two children, daughter India, 8, and Dominic, 6.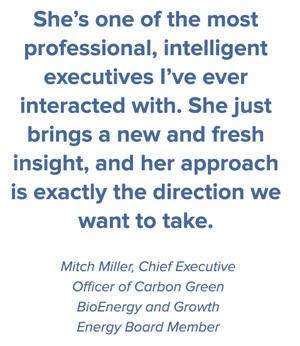 ---
"I actually met my husband in the first grade," she said. "We dated in high school, we were high school sweethearts. It took him 20 years to convince me that he was the one."
---
And what do her children think about mom's new gig in energy and ethanol?
---
"When I told them that you could grow corn and make gasoline for the car, that blew their minds," Skor said. "And of course, they don't know that it's not sweet corn, I know that point is lost on kids. I remember a couple of days after I started we were eating sweet corn at the dinner table and while my daughter was happily chomping away, she just started chuckling to herself and said: 'I eat corn, corn to make ethanol, I can't believe it.'
---
"They think it's the coolest thing. They love it."
---
Nearing the end of an hour-long interview, the discussion shifts from questions about the Renewable Fuel Standard and how Growth Energy plans to use social media to reach soccer moms and millennials to small talk that signaled an end point. Skor began to laugh.
---
"That's it? Are you sure? This has been fun. Hey, let's to this next Friday, same time, same place – how about it?"
---
Everyone on the call, including Growth Energy's Director of Communications Michael Frohlich, is immediately at ease. Part of that lasting impression for anyone who meets Skor.
---
"I am absolutely excited about the future of Growth Energy," said Carbon Green BioEnergy's Miller. "Emily is exactly what we needed.
---
"There's nobody I'd rather have speak for us than Emily Skor."
RELATED: Seven Questions with Emily Skor
---