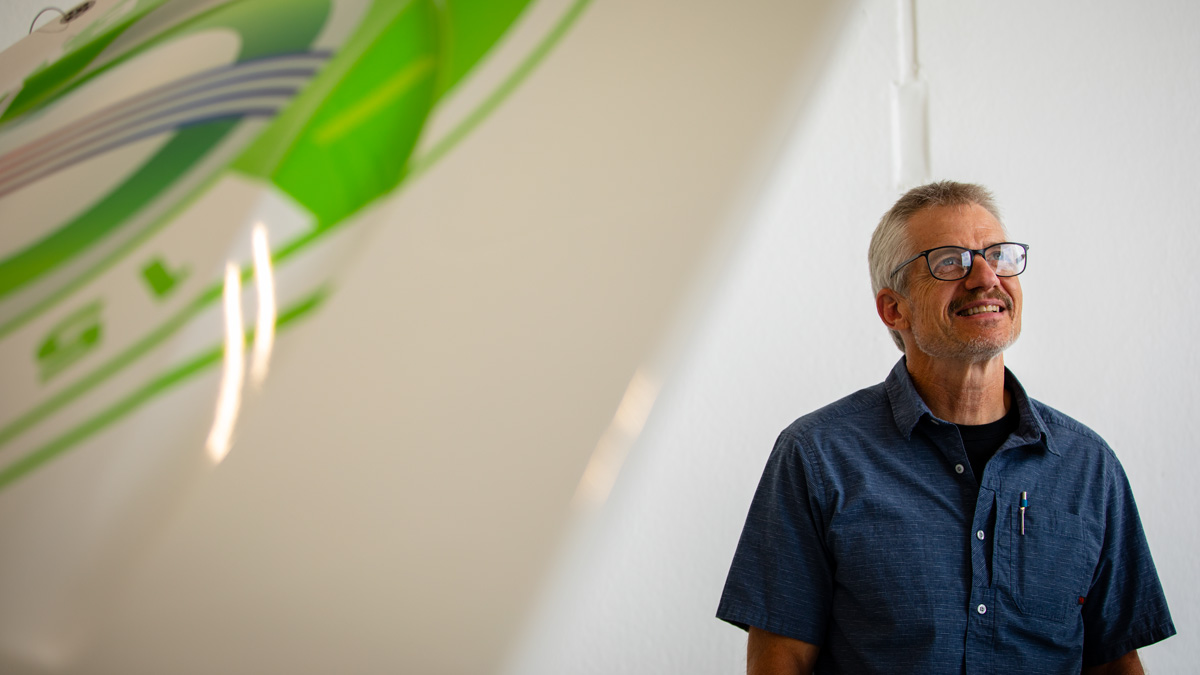 ---
In 2011, NASCAR made the switch to E15 as the fuel of choice for all of its racecars, which was a significant step toward the sport's sustainability initiative, NASCAR Green. E15, often marketed as Unleaded88, is a blend of gasoline with 15% ethanol, which means it is cleaner burning and higher octane. The switch came as a result of a long-term partnership with American Ethanol, a program spearheaded by Jeff Broin, who was then Chairman of Growth Energy, the world's largest biofuels advocacy group. Broin knew how impactful it could be if the world saw the extraordinary performance of higher ethanol blends in racing.
---
He was right. In November 2019, NASCAR announced that its drivers had surpassed 15 million miles driven on E15. The milestone is a testament to the high-quality, high-octane fuel that has kept NASCAR vehicles running successfully under the most grueling conditions.
---
Just ask Dr. Andy Randolph, the Technical Director of ECR Engines, (formerly Earnhardt Childress Racing Technologies), the company responsible for designing, building and supplying the car engines that power NASCAR. During his career at NASCAR, Dr. Randolph has contributed to five NASCAR cup championships.
---
"When you replace additives in gasoline with ethanol, you get the octane you need. Octane is the key to high-performance, high-efficiency engines. That's great for racing and that's great for consumers as well," says Dr. Randolph. Ethanol is also an excellent solvent, reducing carbon buildup in the engine ports and combustion chamber.
---
NASCAR has achieved this superior engine performance all while reducing greenhouse gas emissions by 20%--all thanks to E15. According to Dr. Randolph, "The ethanol molecule has an oxygen atom which makes it wonderful for reducing carbon-based emissions such as unburned fuel and carbon monoxide. That oxygen atom helps to reduce emissions by ensuring all of the carbon gets fully oxidized." A recent report by the USDA found that greenhouse gas emissions from grain-based ethanol are 43% cleaner than gasoline.
---
Using ethanol also reduces the amount of toxins emitted from the tailpipe. "When we made the switch to E15 the concentration of aromatics dropped by over 50%," says Dr. Randolph. This is very important for human health, because the aromatics that are added to traditional gasoline to increase octane contain known carcinogens like benzene and toluene. "When you replace the additives in gasoline with ethanol you get the octane, but you don't have the health concerns that you had before," says Dr. Randolph. "So, we're happy to have ethanol from a health standpoint and we're happy from a performance standpoint."
---
NASCAR fans have also seen the benefits of the Earth-friendly, American-made fuel. Today, fans are three times more likely than non-fans to use E15 in their own vehicles. With a fan base of 80 million people, that's a huge group of consumers who are now filling up with a cleaner fuel.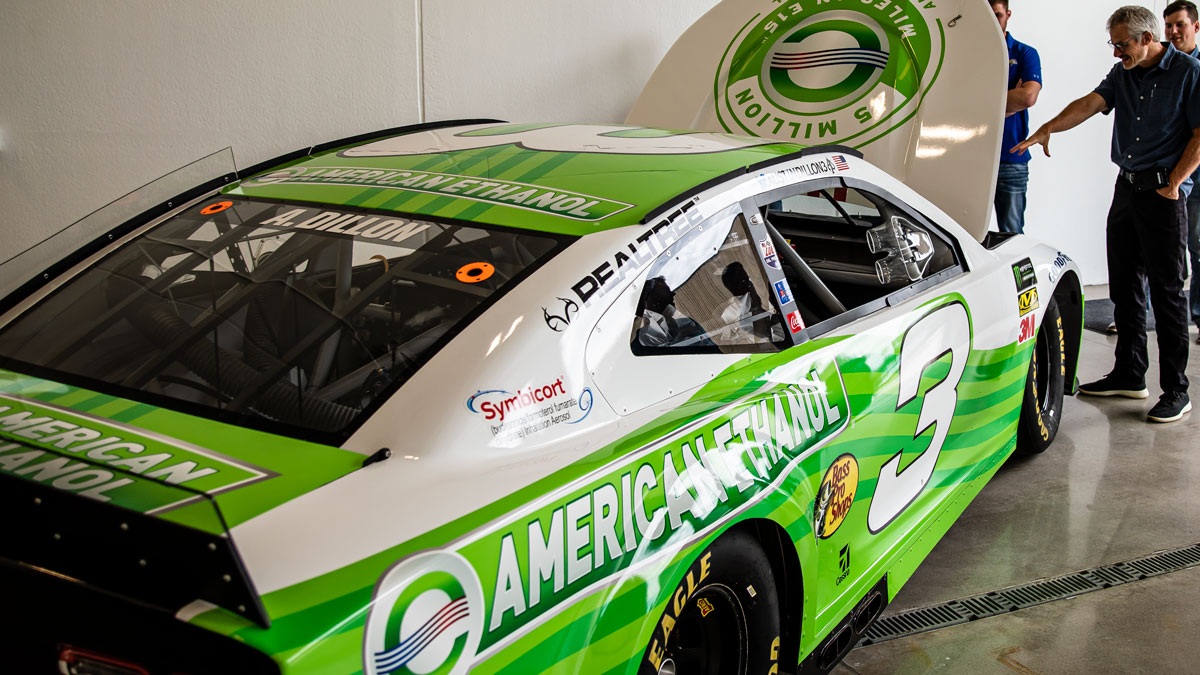 ---
Now, nine years into American Ethanol's partnership with NASCAR, it is easy to see the benefits E15 provides for the sport in terms of engine performance, human health and the environment.
---
"We had a lot of interest in sponsoring NASCAR because their popularity and viewership is tremendous," says Greg Breukelman, President of POET Nutrition. "They say in NASCAR, win on Sunday, drive on Monday. Since we could actually have our fuel in the sport and show its benefits with each race, we knew it would be accepted by NASCAR's huge audience."
Breukelman says it wasn't difficult to get NASCAR interested in using E15, thanks to support from Dr. Randolph and hisextensive knowledge of engine performance and ethanol.
---
"There was hesitancy from people who didn't have experience with ethanol because we hear all the same misconceptions that the consumers in general hear. Fortunately, I had plenty of experience with it, and I knew there weren't going to be any problems. And there haven't been any problems," says Dr. Randolph.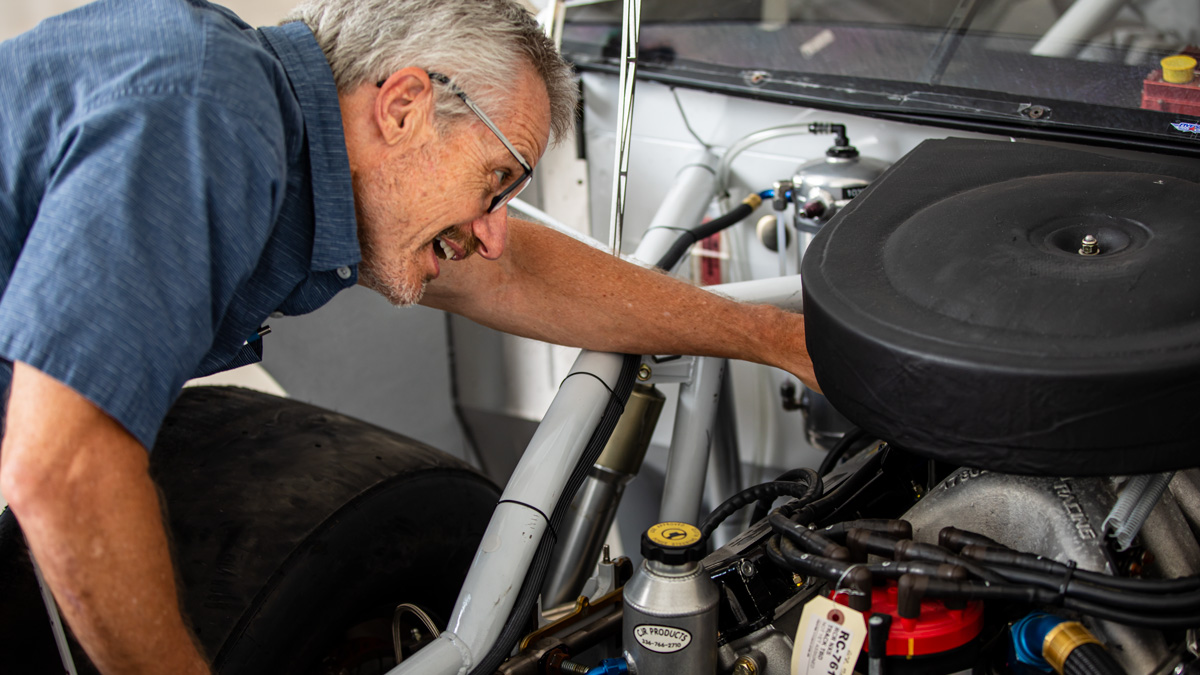 ---
The brand American Ethanol represents a coalition of interested parties, companies, trade groups and individuals. It was critical to get all members represented by the brand on board. "Jeff was instrumental in helping to gain backing from ethanol producers, suppliers and partners in our industry and highlighting the benefits of E15 by getting it out on the racetrack," says Breukelman.
---
Once American Ethanol finalized the partnership with NASCAR and E15 became the sport's fuel of choice, NASCAR also started using the iconic American Ethanol green flag, waived at the start of each race, and the American Ethanol-branded fuel port sign on every racecar to help educate fans and the general public about E15.
---
In 2011, American Ethanol also partnered with Richard Childress Racing (RCR), one of the largest and most storied organizations in NASCAR. Richard Childress, chairman and CEO of Richard Childress Racing, has led the team since 1969 and has accumulated a total of 16 championships and more than 200 victories across NASCAR's top three series. According to Breukelman, the decision to partner with RCR really came down to Childress's outstanding character. "Richard has an amazing reputation as a man of his word and a true gentleman who really supports his sponsors."
---
The partnership with RCR was the beginning of a wonderful relationship between Broin and Childress. Soon after the partnership was finalized, Childress joined the Growth Energy board of directors and continues to advocate for biofuels today.
---
So how do you thank someone who has had such a tremendous influence on an industry? If you're Richard Childress, you give that person a genuine NASCAR racecar. In December 2019, Childress gifted the Chassis #490 to Broin to show his appreciation for Broin's contribution to the sport, his team, and the impact biofuels have had on changing the world.
---
The Chassis #490 was built in 2014 and has logged actual miles on the track—4,873 of which were driven by NASCAR legend Austin Dillon. The car is outfitted with an ECR 761 engine and has recorded two top 5 finishes and seven top 20 finishes – all fueled by E15. It is painted to reflect 50 years of RCR and was driven on the day NASCAR surpassed 15 million miles on E15.
---
Broin intends to use the Chassis #490 to continue spreading the message about the benefits of biofuels beyond the NASCAR racetrack. Showcasing those benefits to consumers is critical because, as Dr. Randolph sees it, the future of the auto industry will be powered by ethanol. "From a performance standpoint, where the real carrot lies is in the future. All the major automotive manufacturers have petitioned the U.S. government to define a path to a higher octane fuel. If they knew that higher octane fuel was going to be widely available in the near future, they would design their engines around that. And with ethanol being the additive that raises the octane in the fuel, they'll be able to get the higher octane, premium fuel in an economical and environmentally friendly way. That's where performance would really be enhanced—when you can design the whole engine around knowing that that octane is going to be there."
---
It may seem like a far-off goal, but that hasn't deterred Broin in the past. According to Breukelman, "When Jeff sees a problem that to some people might look impossible, like bringing all of these individuals together to create American Ethanol, come to a consensus, raise enough funds and partner with NASCAR, he doesn't shy away. That's the stuff that he gets excited about. What some may see as an impassible mountain, he sees as the next great opportunity."
---
---