---
Juggling executive-level responsibility for two different POET business units – Design & Construction and Plant Management – keeps James Moe busy, all right. But it can't hold a candle to a period earlier in Moe's career that helped shape him into the master multi-tasker and thoughtful leader he is today.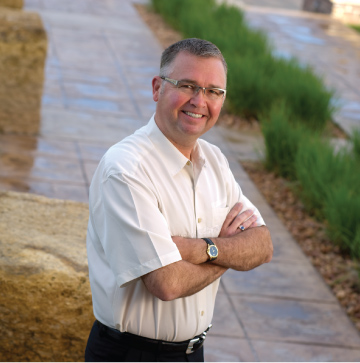 ---
For 18 sleepless months in 2002 and 2003, Moe simultaneously ran a large business for a Fortune 200 company, attended night school full-time to complete his bachelor's degree, and "never missed" one of his two young kids' sporting events.
---
"That was a rough year and a half, not one I'd want to repeat," says Moe, who graduated magna cum laude from Concordia University Wisconsin with a degree in management and communications while working his way up through the ranks of Milwaukee, Wisc.-based Johnson Controls. His efforts were completely worthwhile, though. "I was proud to get the degree. Education is priceless, and I hope I served a good example for my family on the importance of education," Moe says.
---
Moe has always been the type of leader who knows what's really important, colleagues say, and how to prioritize accordingly. He's also an adaptable, energetic guy for whom multi-tasking is second nature.
---
"He's got strong business skills, he's entrepreneurial and he likes a fast-paced environment," says Jeff Lautt, POET's Executive Vice President of Corporate Operations.
---
Adds POET Chief Executive Officer Jeff Broin: "James is a manager extraordinaire. He gets a lot of respect from people and is a natural leader."
---
POET hired Moe in 2006 as Chief Operating Officer for Plant Management, but within a year he was performing so exceptionally that he was asked to become COO of Design & Construction as well. (Moe oversees POET's Research Center, now, also.)
---
"He has the capacity to handle a lot of responsibility," Lautt says.
---
During Moe's tenure as a double-duty COO, POET has expanded from 14 to 27 biorefineries, and those biorefineries now produce 1.7 billion gallons of ethanol annually. Since Moe came on board, the company has built three or four major projects—all worth $100 million or more—each year, Lautt explains. Moe has not only guided the projects through construction (wearing his Design & Construction hat), but he's made sure they get up and running smoothly and efficiently (wearing his Plant Management hat).
---
"There's been a great synergy with him running both units and having the overall responsibility of making it happen seamlessly and successfully," Lautt says. Moe is a major reason that "each project was on time, and at or below budget. The start-ups happened flawlessly," Lautt says.
---
Moe is no stranger to the start-up environment. A native of Dell Rapids, South Dakota, he earned a two-year degree in electronics engineering technology and then worked for five years as a project manager at a start-up venture in Sioux Falls called Climate Systems, Inc. From there Moe made the jump to the mammoth Johnson Controls, which was founded in 1885 when Warren Johnson invented the thermostat and now boasts 130,000 employees worldwide. At Johnson Controls, Moe started as a field technician and ended as Vice President of Operations for North American Systems, moving his young family to four different states over the course of more than a decade.
---
During his years at Johnson Controls, Moe was a "strong leader" who people wanted to follow, says Moe's former colleague and boss Alex Molinaroli, President of Power Solutions at Johnson Controls and Vice President of Johnson Controls.
---
"James is always the first person to sign up for anything, even if he doesn't realize how hard a task is going to be. His first answer is always 'yes,' and from there he always figures out how to get something done," Molinaroli says. "In whatever role James was in at Johnson Controls, he was always willing to not only do his job, but extend himself outside of his role. That made him a logical choice for new opportunities – his willingness to accept challenges and the risks that came along with it."
---
POET CEO Broin recruited Moe for similar reasons. However, it took some persuading by Broin – during the course of several lunch meetings–for Moe to take the plunge and join POET. It was POET's mission that eventually won Moe over.
---
"I gained confidence that this would be a wonderful experience, that it could be a once-in-a-career experience," Moe says. "I saw that there was an opportunity to literally change the world's fuel supply and be involved in an organization that could have an impact on the globe and leave a legacy that's unparalleled."
---
It has been extremely rewarding and exciting to be on board at POET during a period of rapid growth, Moe says. The company was only about 20 years old when Moe started, and what struck him "is that such a youthful organization could sustain the level of excellence we did during rapid growth. POET has done such an outstanding job of adapting and even setting the pace within the industry," Moe says.
---
The number of employees who work under Moe's leadership has doubled – to around 1,200 – during his tenure, and Moe feels like he learns as much from those around him as they learn from him.
---
"The days go by in the blink of an eye. There are new challenges every day I go to work," he says. "Not a day or week goes by that I'm not learning from those around me here at POET or from suppliers or investors or those in the communities where we have facilities."
---
Jeff Heikes, a Director of Project Management for POET who reports to Moe, marvels at Moe's ability to juggle his many responsibilities without dropping any balls. Part of Moe's success lies in his proactive approach to problem solving, Heikes says.
---
"He cuts through issues and gets to the core of a problem. He's one of the guys who takes difficult issues and puts them to the top of the pile and deals with them. He takes the bull by the horn with action items, and he has a candor that allows him to execute quite well," Heikes says.
---
Heikes admires more than just Moe's workplace talents and successes, however. He also appreciates Moe's acknowledgement that life away from the office is important.
---
"There are some people who are so ingrained in business and business life that they can't turn on their personal switch when they're away from work. That's not James. When interacting with him socially–whether at a Christmas party or out on the lake or riding Harleys–it's about you and your families and friends, not work and projects," Heikes says.
---
Owning a task list that runs pages deep, it's the top few items that mean the most to the double-duty COO. It's the family time, camping, golfing and riding Harleys that take priority. With an above average amount of responsibilities each day, Moe's balance in life is one to admire.
---