---
"Long May You Run," was written well before Neil Young started his alternative fuel project dubbed "LincVolt," but it's an apt descriptor nonetheless for the role POET's cellulosic ethanol has played in solving range issues for the eco-friendly car.
---
Neil Young, musician and champion of innovation, has converted a 1959 Lincoln Continental into a clean car that uses an electric and ethanol-based propulsion system.
---
The crew is planning a cross-country tour and film to "inspire a generation," according the project's mission.
---
"The battery on the vehicle is a high-voltage DC pack that was designed for vehicle use," says Andrew Roberts of UQM Technologies, whose electric motors have been used in the car. "Electric systems can be up to 95% efficient, but the problem of battery capacity dictates that there must be an alternative energy source on board in order to ensure a livable driving range. Using biofuels as an alternative energy source represents a cleaner and more energy-independent alternative to traditional gas or diesel range extenders."
---
That's where POET comes in. Cellulosic ethanol from the POET Research Center in Scotland, S.D. will be providing that alternative energy source.
---
Young said the project is a way to reconcile two of his passions in life.
---
"I've always had a love for older cars and bigger cars, but I've also always had a love for the environment," he said. "I felt conflicted about that, but I thought there must be a solution."
---
So he looked into his options.
---
"I did some research into different fuels and thought that cellulosic could be a long-term solution for the environment."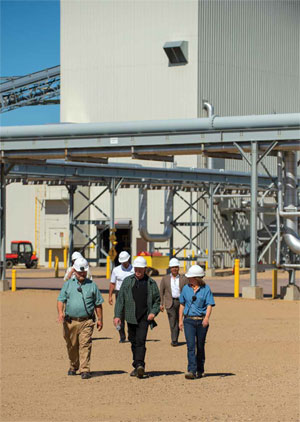 ---
Young and his crew update the process regularly on The LincVolt Gazette, his blog about the project.
---
"… [T]his fuel is different," Young writes. "It is made from the waste of farming, the waste of conventional ethanol production, and it has by-products: … gas for replacing the natural gas used in the processing of conventional ethanol."
---
"The great thing about cellulose is that it's coming from an unused raw material," says Dave Bushong, General Manager of the POET Research Center in Scotland, S.D. "Currently, when we talk about corn stover we talk about something that's just left to decompose on the soil. Being able to use that product is both an economically and environmentally viable alternative to petroleum."
---
A History of Being Part of the Solution
---
Young, whose music spans decades and genres, is an advocate of rural America. In the 80s, when farmers suffered from drought, high interest rates on loans and failing crops, Young teamed with other musicians to create Farm Aid, a concert that brought in nearly 10 million dollars for farm relief in its first year alone.
---
Knowing that American farmers didn't want a government handout or pity, the musicians behind Farm Aid wanted to raise awareness of the situation in the Midwest and find a solution to the problems.
---
More than 25 years later, Young is again working with like-minded organizations to solve a problem: fossil fuel and its detrimental effects.
---
Johnathan Goodwin of H-Line Conversions in Wichita, Kansas is a collaborator on the project.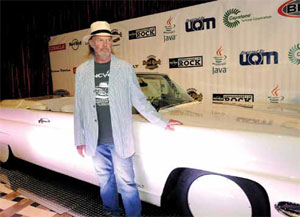 ---
"[Young] and his long-time friend Larry Johnson showed up at my door with the Lincoln, and what looked like a hundred water bottles on the floor of the car," says Goodwin of his initial introduction to the vehicle. "They looked like they'd been on the road for about six months, you know, driving this old Lincoln out to Wichita."
---
He and Goodwin worked on the car together, dreaming of 100+ miles of fuel efficiency. Initially they were running water and ethanol through a rotary motor but couldn't get the propulsion they needed for the 19-foot, 5,000 pound vehicle. Then one day Goodwin came up with another idea.
---
"I said to him, 'I have this crazy idea of a hybrid that wouldn't be limited on range. It would be electric, but you'd have a generator on board that could charge the batteries using a clean fuel'."
---
Young, Goodwin says, was "all in."
---
Idea to Reality
---
With that, work began in earnest. Young and his crew filmed the process for a documentary that will bring viewers behind the scenes and to the forefront of his dream. They plan a cross-country road trip to Washington, D.C. to discuss with legislators energy and job issues that challenge America. And then Young patented Goodwin's design for eventual commercialization. This kind of ambition is what Young is known for, and his sense of pride in American work and creativity underlies this project.
---
"I'd never been around big, old cars until I met Neil and saw the collection at his ranch," Goodwin says. "He's very adamant about the pride and craftsmanship in American cars from back then. The whole thing he was inspired about is having an electric car you don't have to stop to refuel."
---
Bushong sees this work ethic and ingenuity as something that also drives today's ethanol producers and researchers.
---
"We're a company dedicated to innovation, in the starch and cellulose ethanol business as well as the biochemical business," he says. "POET is dedicated to making cellulose ethanol a competitive-priced fuel for the consumer. The world will continually see escalating fuel costs, and historically we've brought down the price of ethanol to the consumer. I think the same will be true for cellulose ethanol."
---
One of the goals behind this project and the work at POET is a solution to the many problems around oil use. As it is now, the collaborators are headed in the right direction.
---