---
When recruiting interns to spend their summers working with her in the grain merchandising department at POET Bioprocessing – Shell Rock, Megan Bierschenk looks for students who are a lot like she was in school. She looks for students who know what they want to do after college, who are leaders in clubs, passionate about working in the agricultural sector, and who are outspoken and professional.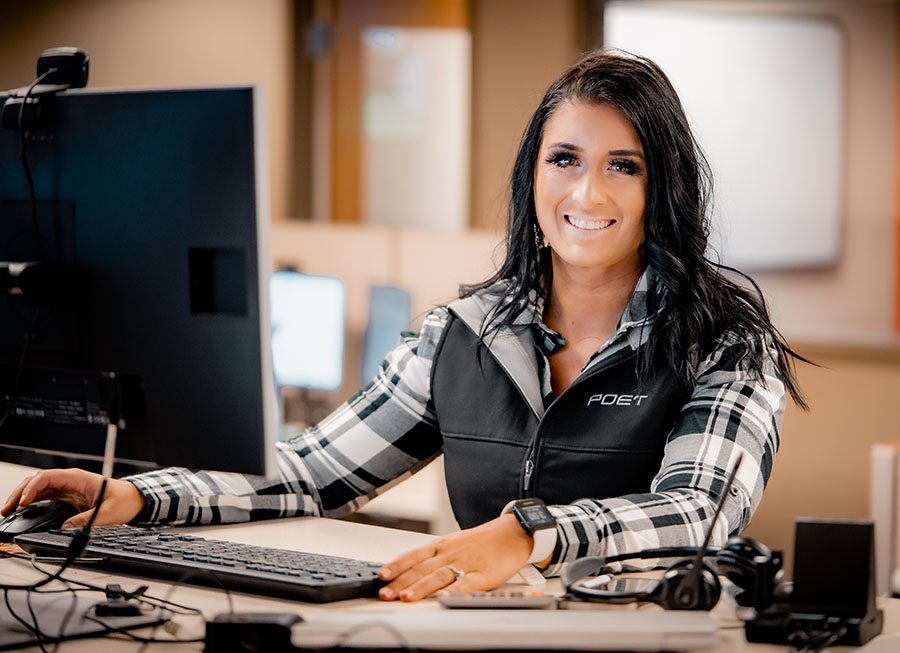 ---
Majoring in ag business and agronomy at Iowa State University, Bierschenk's junior internship was in seed sales — a job that would keep her close to the farm after graduation. But the job opportunity she thought she had lined up disappeared when the seed company changed ownership. A family friend, Nathan Underwood (now Regional Marketing Manager at POET), knew her situation and said he had an opportunity for her in grain merchandising. "I said I don't know anything about merchandising, and he said that's fine. You know customers; you can relate to people. I can teach you the rest."
---
Nine years later, she's become the face of the facility to the farmers supplying corn and has developed a customer outreach program that has grown the percentage of farmer-direct deliveries. "When
I started, we probably saw 40 percent farmer-direct deliveries, and now it's around 80 percent," she says.
---
Customer outreach is crucial, she says, as POET – Shell Rock sits in the center of four bioethanol facilities in Iowa, each 40 miles away. "Our customers have a lot of options within driving distance. If bids are the same, we want them to come to us because of their positive experience." They strive to get trucks turned around in 10 minutes, she says, and text customers if waits are getting longer.
---
In the customer outreach program she's developed, Bierschenk's goal is to be in front of everybody at least every 90 days — no small feat when it takes around 800 farmers from four counties to supply the 120,000 bushels of corn ground daily to meet Shell Rock's annual capacity of 140 million gallons of bioethanol. In addition to phone calls and farm visits, she organizes customer marketing meetings to discuss markets and sponsors community events and county fairs — "any touchpoint we can do to get our name out there," she says.
---
The interns she mentors each summer play an essential role as well, she says. "On the third or fourth day after onboarding and training, they're on the phones talking to customers, doing farm visits, and buying corn. We get them familiar with the markets, learning our position and how we trade and buy corn each day," she says. "We make them feel like an important part of the team because they are."
---
She takes pride in the retention rate for the interns that were ultimately hired as merchandisers. When she started working at Shell Rock, it was one of six facilities operated by Flint Hills Resources, and interns would often fill an opening at another plant after graduation. Now, as part of the POET family, the interns have even greater opportunities across POET's network, with one now filling a new opening in Indiana.
---
Mentoring goes beyond Bierschenk's day job. Outside of work, she has coached competitive cheerleading at Nashua-Plainfield High School — her hometown team — winning the state competition in 2016. When her son was born three years ago, she gave that up but still does a bit of coaching as a fitness instructor.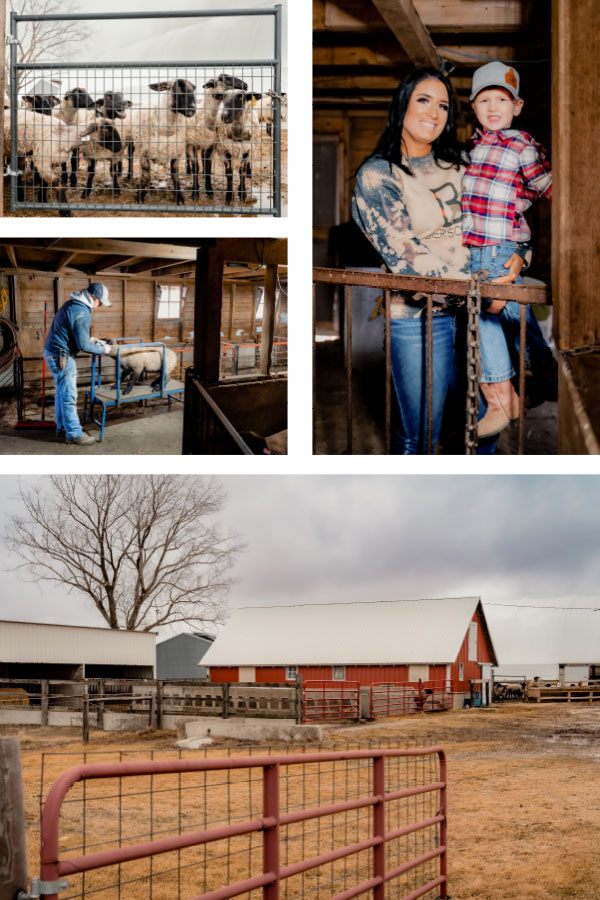 ---
In recent years, she's gotten active again in 4-H. "We've always shown livestock as a family," she explains. "Growing up, we showed every species — cattle, horses, sheep, pigs." Living on a farmstead just a mile from her folks, she resurrected the sheep operation set aside when she and her siblings grew up and started showing sheep four years ago. Her flock of 30 ewes produces about 60 lambs, many of which are sold for 4-H projects.
---
Breeding show sheep quickly evolved into becoming the 4-H sheep and goat superintendent alongside serving on the Chickasaw County youth development committee. She's also started a lending program for local kids. "They can come out to the farm, and we'll teach them how to train sheep and do their grooming and feeding. The kids learn on our farm and then show the sheep, which come back to the farm after the show." She also puts on a sheep showing clinic on their farm each year for kids from all over the state to attend to sharpen their skills. While there were only two families showing sheep in the county when she started, now the sheep barn at the fair is full again.
---
Whatever she tackles, Bierschenk says she likes to succeed. "I like coaching. I like to be busy. I'm competitive and like to be the best at everything," she says. "It drives me in everything I do."
---
Like POET, Bierschenk has planted her roots in the community and is working hard every day to help those around her grow.
---