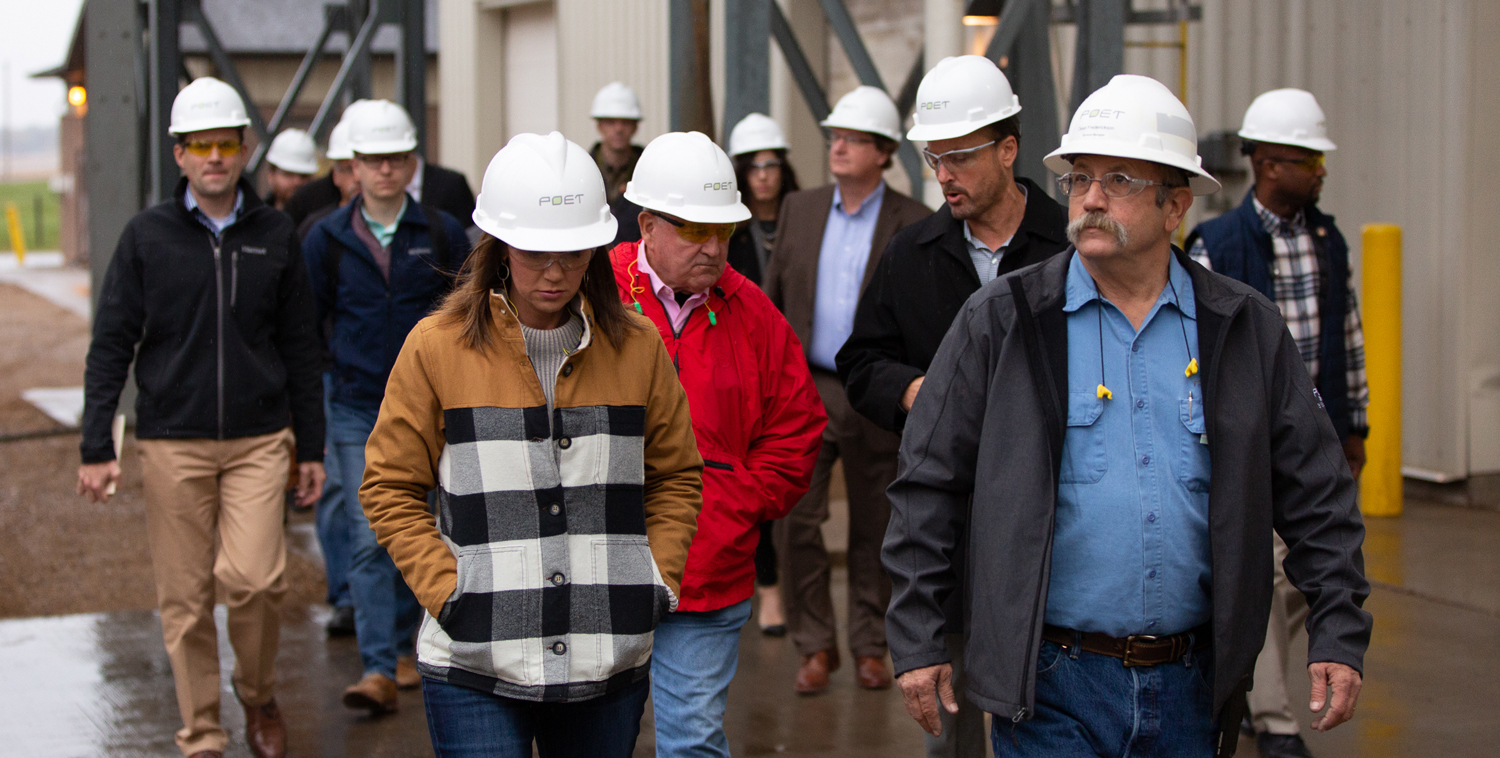 ---
Chancellor, S.D. — U.S. Secretary of Agriculture Sonny Perdue told biofuels supporters on Thursday, Oct. 25, during a round table discussion at POET's largest ethanol plant in the state that he is committed to bringing year-round E15 sales home to the finish line following President's Trump directive earlier this month.
---
On Oct. 9 Trump announced that he would direct the Environmental Protection Agency (EPA) to allow year-round sales of E15, a 15-percent ethanol blend, which have been limited by outdated federal regulations. Now, the attention is on securing that change in advance of next summer's driving season.
---
Perdue said to a group of farmers, ethanol producers and other industry stakeholders during his visit to POET Biorefining – Chancellor that his commitment to the biofuels industry remains strong.
---
"We're happy to be here with all of you and really to talk about this issue of ethanol and E15 and how we can make the promises come true," Perdue said. "I do appreciate President Trump. … [His decision] is another example of promises made, promises kept of this administration."
---
Ethanol producers and South Dakota farmers at the round table expressed thanks to Perdue and to Congresswoman Kristi Noem and Senator Mike Rounds, who also joined Perdue for the meeting, for their dogged efforts on lifting restrictions on E15 sales. Rounds and Noem, as well as Senator John Thune, were key champions in South Dakota behind President Trump's October announcement.
---
---
Rounds underscored how Perdue has been a steadfast advocate for biofuels. Both Rounds and Noem credited Perdue's background in agriculture, including working as a veterinarian and serving as governor of Georgia, for that knowledge. "Sonny talks about ag from the inside out. He gets it. You don't have to explain the vernacular. … Mr. Secretary, thank you for being here and helping us see this through to the finish line."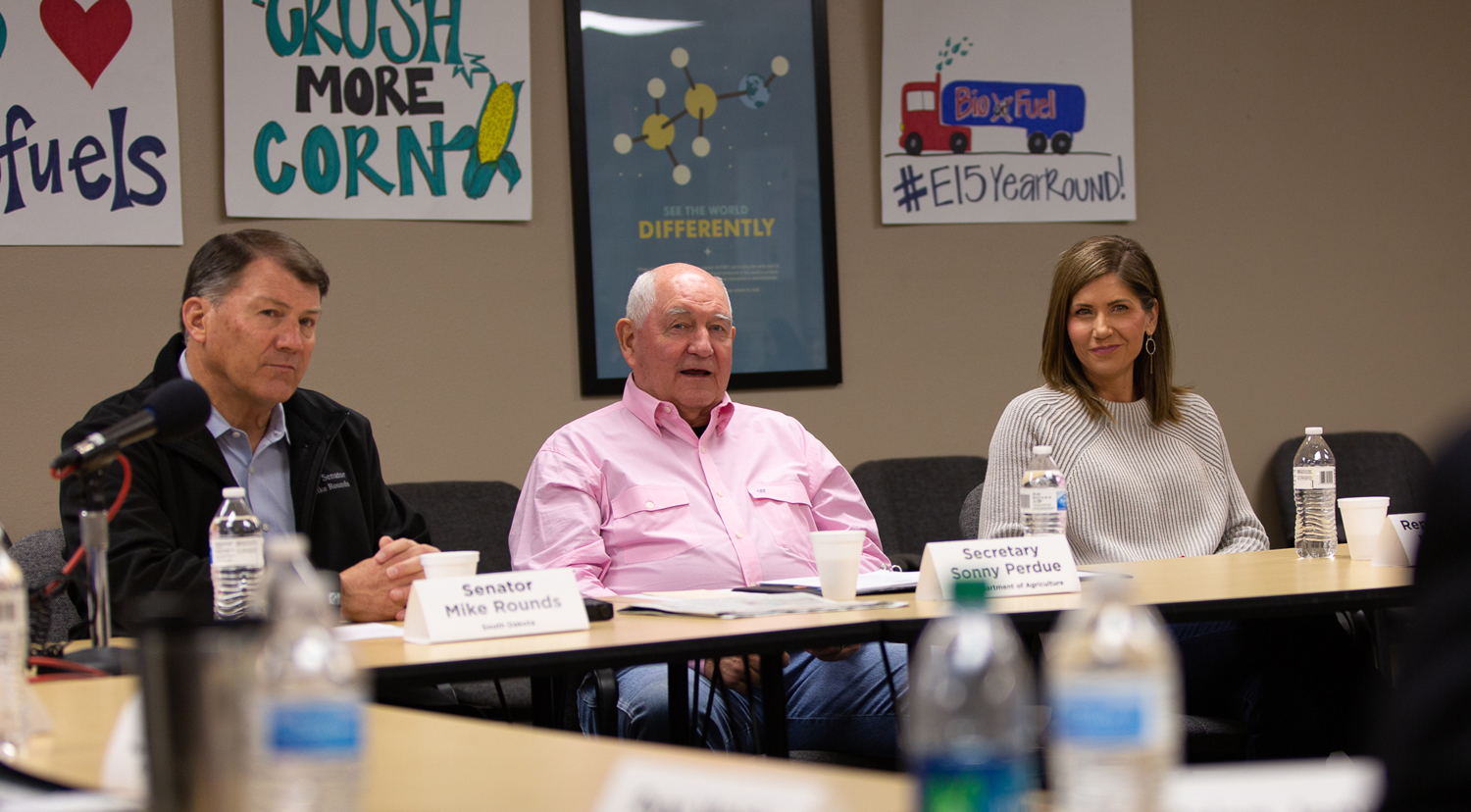 ---
Noem referenced how the pathway to securing E15 sales has been a long journey, and credited Perdue for being a constant champion for ethanol in Washington. She echoed comments from Rounds and several farmers and ethanol producers about how year-round E15 sales will bring significant benefits to farmers and rural economies across the country. Nationwide adoption of E15 could boost domestic demand for corn by an additional two billion bushels per year.
---
Perdue, Rounds and Noem talked about the importance that relationships have played in moving E15 legislation forward and emphasized the need to continue working together.
---
"I want to thank the Secretary for coming to South Dakota," Noem said. "This is something that he and I talked about for quite some time since the President announced during his campaign for President that he supported ethanol. We were working to see that he followed through with that, and were very grateful to see the announcement in earlier October that he was going to make sure that we had E15 available year-round. That's a big deal for all of us across the state. …. This is a win-win not just for our state but also for the country and, really, our renewable energy supply."
---
During the discussion, Perdue addressed concerns about delays in the rulemaking from the EPA, saying that he's certain that the EPA will follow through.
---
"I'm absolutely convinced that [Acting EPA Administrator Andrew] Wheeler wants to make this happen in time for next year. He's committed to getting it done," Perdue said.
---
Perdue also discussed the importance of turning to expanding markets and consumer awareness for E15. "It's up to you all to really grow this business out like you did with E10. Just grow it out. … As people understand what E15 is all about, I think we'll see it spread. We do want to make it ubiquitous across the country — make more demand and growth."
---
Noem also shared that Perdue's enthusiasm for farmers and for the benefits of ethanol is constant across all settings.
---
"I've sat in the Cabinet room with the President talking about ethanol, with Sonny sitting next to me, and he was supportive of ethanol in that room on your behalf as well. I think that's important for you to know: That he, no matter where we are, no matter how public or how private the setting is, believes in farmers, he believes in their ability to feed the world, and he believes in their ability to fuel the world, too."
---