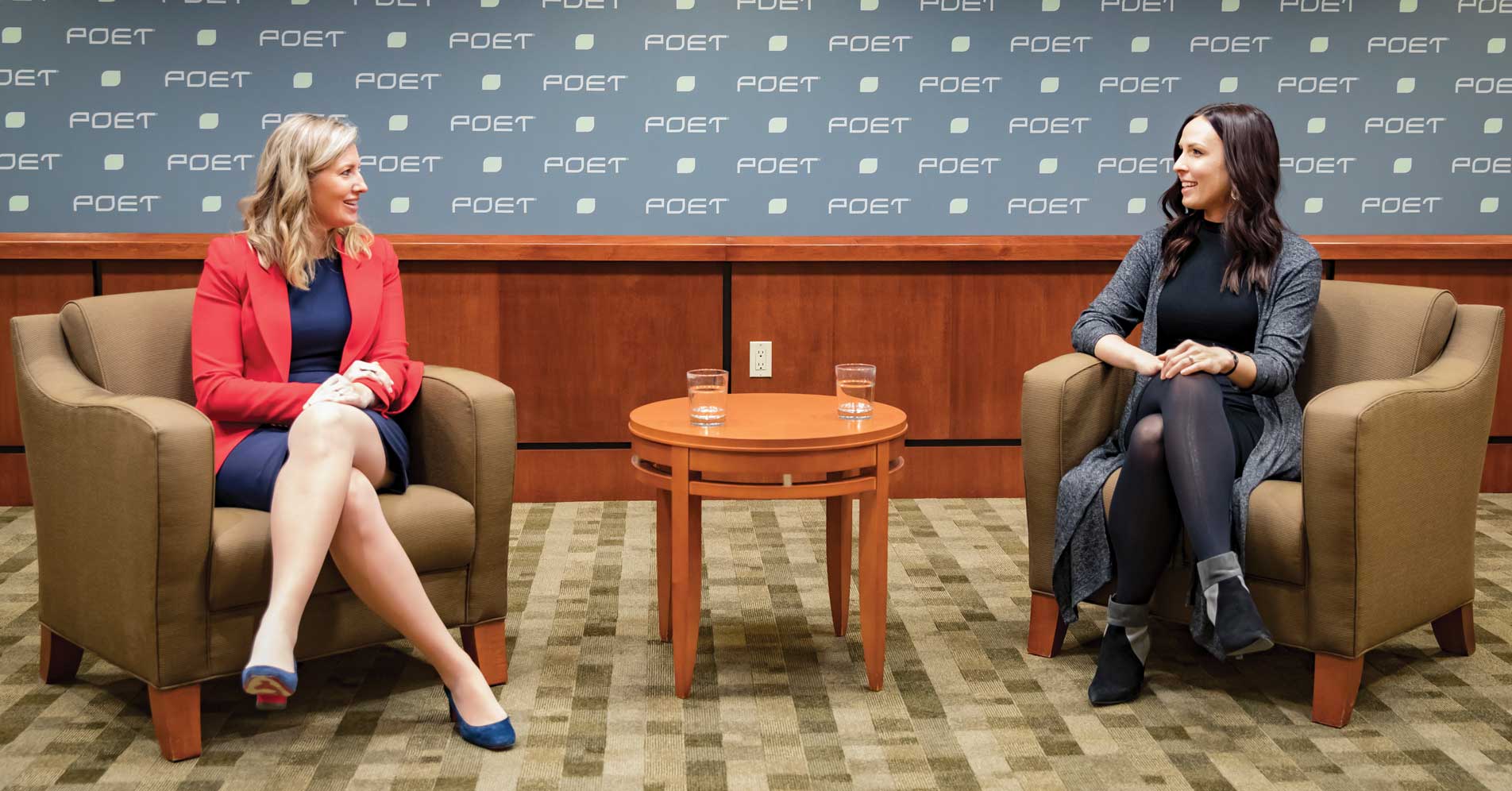 ---
Emily Skor, CEO of Growth Energy, the largest biofuels trade organization, knows that oftentimes she is the only woman in a meeting. In fact, she may be the only female CEO many people she encounters have ever met. But, that's not something that deters her or motivates her. Skor isn't driven by breaking gender stereotypes, or being the best female CEO. She's driven by the enormous potential of biofuels to mitigate the devastating effects of climate change, bolster the rural economy and provide affordable fuel to consumers. She also strives to be the best CEO she can be, gender aside.
---
In March, POET hosted Skor for a Q&A session for team members as part of a series of events to celebrate International Women's Day. International Women's Day is celebrated globally on March 8 and is an opportunity to honor the social, economic, cultural and political achievements of women.
---
Growing up in Saint Paul, Minnesota, Skor wasn't always so aware of traditional gender roles. "I was one of four girls in my family, no brothers. We chopped the firewood and we ironed the linen napkins for Thanksgiving dinner. There were no gender roles in our family. The girls did everything and we just didn't talk about it. I went to an all-woman's college, and so there again, you didn't talk about who's raising their hand and who's talking in class," said Skor.
---
When she entered the workforce, gender roles were still not something that she noticed or sought out. However, she does acknowledge that although she may not aspire to break gender stereotypes, by being a female CEO, she is doing it every day.
---
"In my day I most often am the only, or one of very few women in a meeting. And that's in any meeting, whether I'm in the Midwest or in Washington, DC. If it's a meeting in the White House, if it's Capitol Hill, if it's stakeholders. So that's my norm and I'm pretty used to it. So for me, my focus is not to be the best female CEO, it's to be the best CEO," said Skor.
---
According to the latest Fortune 500 list, female CEOs made up just 6.6% of the highest-grossing firms. While that number is low, it is an improvement from years prior.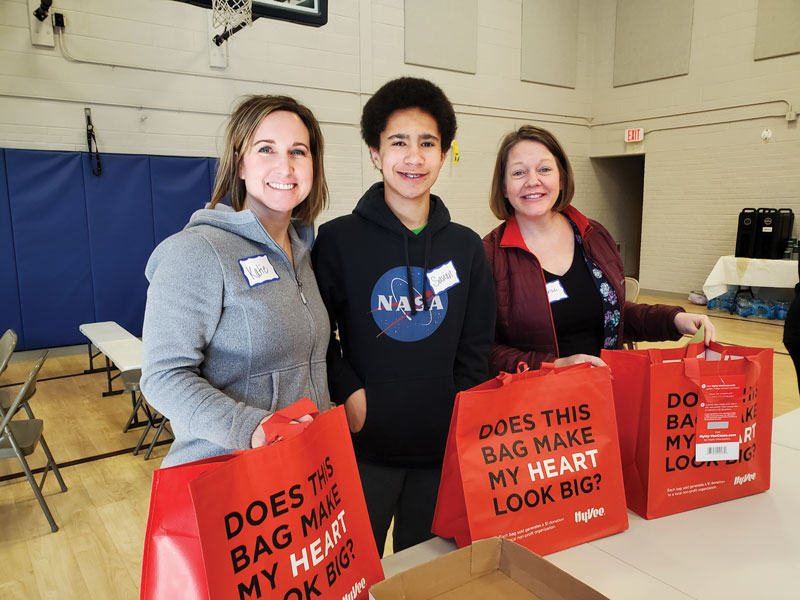 ---
Nationally, women are also underrepresented in the fields of science, technology, engineering and math (STEM). While women fill 47% of all U.S. jobs, they make up only 24% of the STEM workforce. However, at POET Research, more than 30% of science and technical positions are held by women. The areas of expertise that female scientists and engineers bring to POET include analytical chemistry, enzymology, microbiology and engineering.
---
Many of the women working at POET are breaking gender stereotypes. Becky Pitz and Emily Boynton both serve as General Managers at POET Biorefineries. Boynton has been with POET for 17 years, and was most recently promoted to the General Manager role at POET Biorefining – Caro in Caro, Michigan. As a woman in a traditionally male dominated industry, Boynton credits her success to mentors who believed in her abilities and her passion to take on new challenges every day.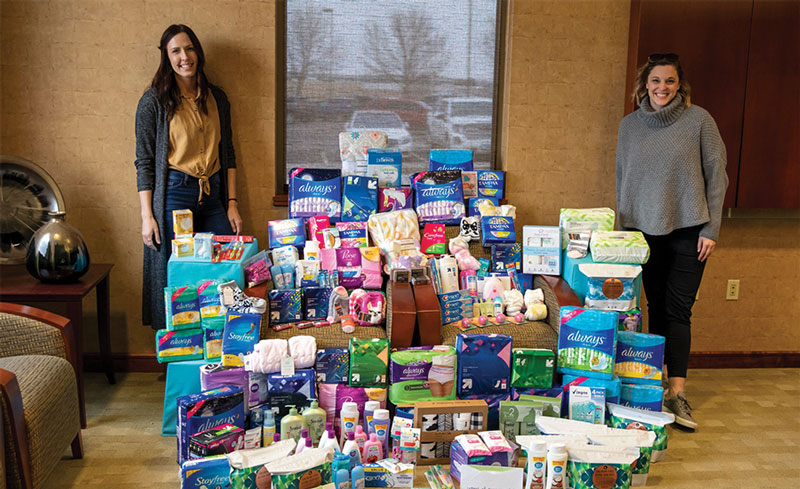 ---
"Unfortunately, many women and girls may not see themselves in a leadership role, especially as a General Manager of a bioprocessing facility," said Boynton.
---
Boynton recognizes that the lack of female examples in STEM can contribute to fewer women and girls believing they can be in similar positions. However, she says working in the biofuels industry is about rising to the occasion and overcoming obstacles, not about an individual's gender. "This position suits me well because I enjoy facing new challenges and encouraging my team to do the same. I want to help remove the stigma that women can't work in bioprocessing. At POET, we are looking for individuals who want to work with us toward our mission to change the world, and we need driven men and women to join our team to do so," said Boynton.
---
To facilitate the next generation of women and men to contribute to their mission to change the world, POET oversees a number of outreach and educational opportunities for students. One such initiative is a partnership between POET and the South Dakota School of Mines and Technology (SDSMT) Women in Science and Engineering (WiSE) program. WiSE is designed to educate, recruit, retain and graduate academically motivated women in STEM fields through outreach events. These events allow women and girls in the South Dakota Black Hills region to interact with female professionals in STEM fields and exposes them to the many opportunities available in STEM careers through interactive exhibits and mentorship.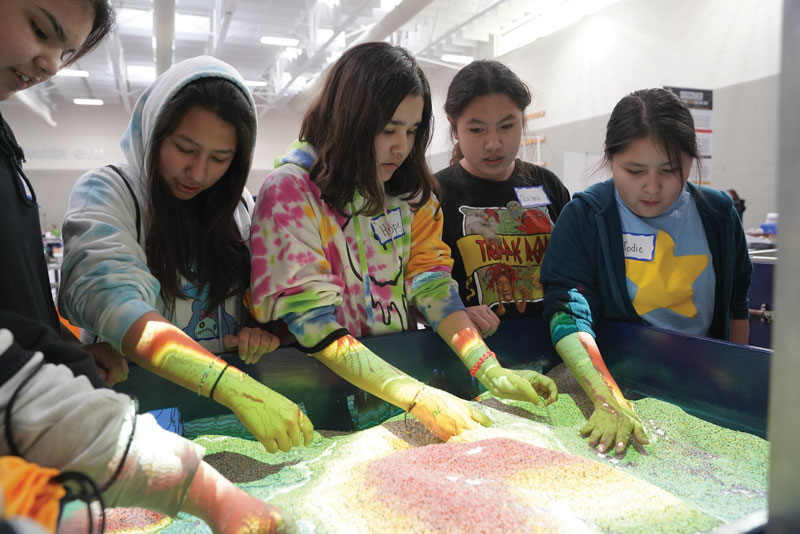 ---
Amber Unser, Vice President of People and Culture at POET, recognizes the importance of providing these opportunities. "POET's mission and vision center on changing the world and tackling some of the most pressing social and environmental issues like climate change. We need everyone, women and men, to help us work toward these goals."
---
POET continued the celebration of International Women's Day by partnering with Women's Day of Service, an event focused on helping women in the Sioux Falls community who lack access to resources. The event was preceded by a donation drive at POET for basic toiletries, hygiene products and helpful essentials for new moms.
---
"The goal of this project is about supporting women in our community who need a little extra help or love. The women we are supporting may be at a place in their life where everyday items that we take for granted are a luxury for them, or hard to come by. Providing these items seems simple, but to them can help provide relief, comfort or even fill a need they have" said Women's Day of Service event organizer Heather Krause. In total, POET team members donated thousands of sanitary products and 35 New Mommy Kits to over 850 women in the Sioux Falls, South Dakota community.
---
In addition to outreach events, POET has also supported the next generation of leaders through the Never Satisfied Scholarship Program. Now in its fourth year, POET has annually selected 10 students who have embodied a 'Never Satisfied' mentality to be awarded a scholarship of $5,000. To be selected, students must show that they are working to change the world for the better. Two previous recipients, Hailey Kingsbury and Emerson Peaslee, are using the opportunity provided to them by POET to make the world a better place for other women through access to clean water.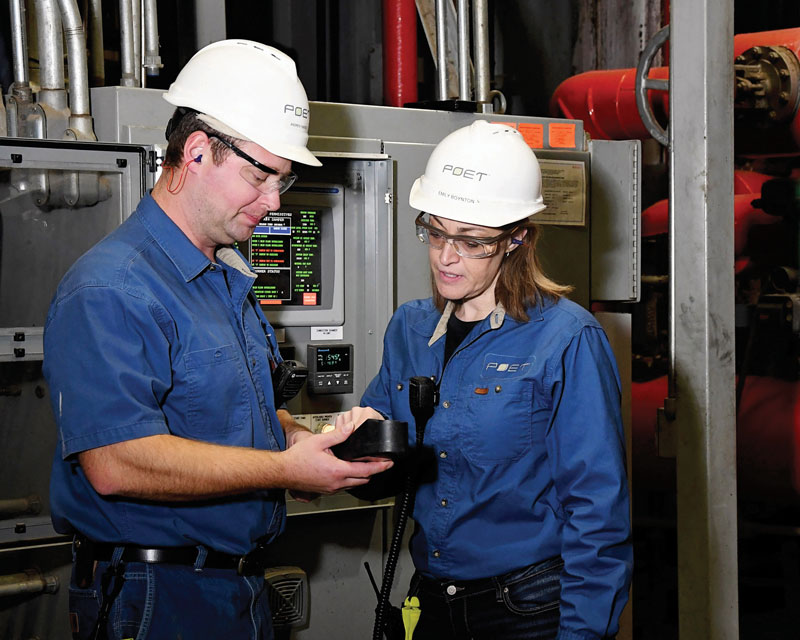 ---
Hailey Kingsbury, a Never Satisfied scholar of 2019, founded the philanthropy 'Girls for Girls' in between studying for her bachelor's degree in Speech Pathology and Audiology at Miami University in Oxford, OH. Girls for Girls seeks to provide access to clean water for women and girls in underdeveloped nations. "With Girls for Girls, I have the mission to provide people with access to clean water and to empower young girls to use their talents to serve others. Access to clean water is an issue that is not easily solved, but I hope that my actions help to bring us closer to a solution," says Kingsbury.
---
Many women in developing nations are responsible for providing water for their family's sanitation, drinking and cooking needs. Without readily available clean water, women spend a disproportionate amount of time seeking it out. This is precious time that could be spent on their education or earning income. Kingsbury says she was inspired by POET's nonprofit Seeds of Change, whose mission is to cultivate sustainable, worldwide change by transforming lives through the power of education and agriculture.
---
Emerson Peaslee, another Never Satisfied scholar of 2019, was also inspired to help girls and women through Seeds of Change. Peaslee is a freshman at the University of Iowa majoring in Environmental Engineering. She works with her local chapter of Engineers without Borders to help build and restore wells to provide a clean source of water for people in El Salvador. Peaslee was similarly moved by the burden women and girls in developing nations face of gathering water.
---
When asked about her future plans Peaslee explained, "My eventual goal is to work with an organization that builds wells in these developing countries so that we can help provide water to women that will free up time for them to get a job, get an education, and support their family in a different way." Peaslee explained that many girls in developing nations are pulled out of school to help gather water at a very young age. "I personally think that education is one of the biggest tools that can be used to decrease the disparity between men and women," says Peaslee.
---
These efforts to help women locally and globally are at the core of the message Emily Skor provided POET team members when asked for advice on how to advance one's career.
---
"Be kind. A lot of people think to have power it comes with having an attitude, and being a jerk, and just crushing people and burning bridges. And that's one approach. And there's some very successful people who take that approach. That is not my approach. Maybe it's because I'm female, I tend to be more of a consensus builder, but you meet a lot of people on the way up and you meet the same people on the way down," said Skor.
---
Consensus building and inclusion are more important than ever in today's environment. The issues we're facing—climate change, hunger and disease—are not goals unique to POET. These are seemingly impossible challenges that each of us must work toward for the betterment of humanity and the world. It will take all of us, men and women, working in unity to find and apply the solution, together.
---