---
When POET interns presented an overview of their projects to team members this summer, there was a common theme, no matter the department: They were all given the opportunity to do hands-on work.
---
That's one of the key factors that distinguishes POET's internship program, says Kate Hlushak, CARE Recruiting Business Partner for POET.
---
"An internship at POET is truly a one-of-a-kind experience. Our interns are hands-on, working on projects that have a direct impact on our business. We value their insight and their fresh new ideas, which is why we give them flexibility in their projects to not only learn but to teach us as well."
---
Forty-eight interns were part of the 2017 internship program, the largest class to date. So far, four of those interns were hired in full-time positions, and three individuals have part-time positions.
---
"Interns at POET have many opportunities to network with leadership, attend professional development courses, give back to the community and more. With an internship at POET, you're helping us change the world," Hlushak said.
---
SUMMER 2018 INTERNSHIPS ARE POSTED AT POET.COM/CAREERS
---
ABOUT THE POET INTERNSHIP PROGRAM
---
290 INTERNSHIPS OFFERED SINCE 2007
Engineering, Lab, Research, Grain, Merchandising, Human Resources, Accounting, Project Management, Public Policy Maintenance
---
64 INTERNS HAVE BEEN HIRED FULL-TIME
22 percent conversion rate of interns to fulltime
---
68 PERCENT OF THOSE HIRED FULL-TIME ARE STILL WITH POET TODAY, many in leadership positions across the company.
---
2018 INTERNSHIP PROGRAM
---
VISIT POET.COM/CAREERS to view and apply for internship opportunities in areas such as Engineering, Lab, Research, Grain, Merchandising, Human Resources, Accounting, Project Management, Public Policy, Maintenance and potentially more.
---
CONSTANCE BREADEN
FOCUSING ON SAFETY
---
After graduating with a degree in Criminal Justice, Constance Breaden — like many new college grads — struggled with finding a job that fit her skill set. She ended up working for a title company processing mortgages. She knew early on that it wasn't a long-term career path.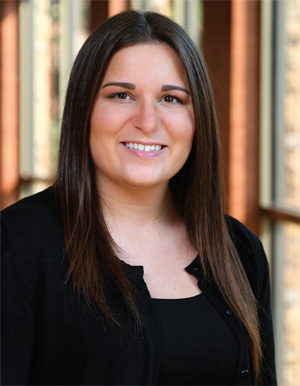 ---
After hearing about safety management from several friends, she set her sights on going back to school. Her school had a 99 percent placement rating within the major, which was an added bonus.
---
The fluidity of the job intrigued her. It includes management and supervisor roles. "You get to know a lot of people — that's what's drew me to it. The people aspect," she said. The position also includes safety training, contractor training and environmental aspects like air permits.
---
Now, after completing a summer internship at POET, she is affirmed in her choice to pursue the safety management degree.
---
During her internship at POET, she applied her knowledge firsthand. She shadowed Chad Berg, Health & Safety Specialist for POET Plant Management, and visited numerous plants. She helped at POET – Groton during the monthly shutdown and conducted safety spot checks. Each plant has a quota for safety spot checks.
---
She enjoyed the direct field work and experience. "I enjoyed it much more than office time — the days go really fast. No two days are the same in a plant, so you never know what will come up," she said.
---
Berg mentioned that Constance has embraced the POET culture during her internship. "From busy meeting schedules to team-building events, interns are always encouraged to approach their time at POET as if they were a long-time team member. Connie has been eager to take advantage of these opportunities during her time at POET."
---
Constance's main internship project was developing a training matrix to streamline and add efficiencies to employee training. "It's basically a one-stop-shop for training employees on safety tasks so that we're not overtraining or under-training certain job tasks," she said.
---
In her research, she read Occupational Safety and Health Administration (OSHA) standards, interviewed other Environmental Health & Safety Specialists (EHS) at POET bioprocessing plants, and compared POET's best practices with OSHA regulations.
---
"The training matrix Connie has been working on will be a great resource for our EHS Specialists and managers at our locations," Berg said.
---
Constance will take away with her the importance of safety training after seeing and reinforcing safety protocols firsthand during her internship.
---
"POET has a really good safety culture — everyone really buys into it. The Work to Live program is POET's brand; I think everyone is a big supporter of the Work to Live program," she said.
---
"I got more out of this summer than I did in the classroom from the hands-on experience and being able to work with plant engineers and plant techs here at PPM [POET Plant Management]," she said.
---
And she'll now be taking her experience to a full-time role at POET. Near the end of her internship, she was offered a full-time position as Environmental Health & Safety Specialist I at POET – Glenville.
---
"All the knowledge that I've gained — being here and being able to work both with POET Plant Management and at the plant level and being able to combine those two experiences — has been invaluable."
HOMETOWN: Pittsburg, Penn.
UNIVERSITY: Slippery Rock University of Pennsylvania
DEGREE: Graduated with Bachelor's of Science in Safety Management, also has degree in Criminal Justice
INTERNSHIP: Health & Safety, POET Plant Management
CURRENT FULL-TIME ROLE: Environmental Health & Safety Specialist I at POET – Glenville
JAMES FORDER
FROM THE CLASSROOM TO THE FIELD: LEARNING ABOUT ALTERNATE ENERGY
---
A POET connection led chemical engineering student James Forder from Rutgers University to a summer internship at POET – Bingham Lake.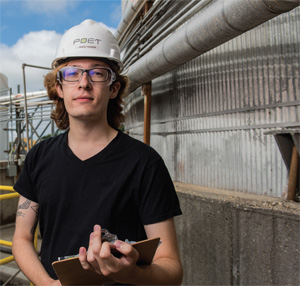 ---
Shishir Chundawat, PhD, professor in the Chemical and Biochemical Engineering Department at Rutgers, has ties with James Humpula, Research Scientist for POET Research, and suggested that his students apply for the internship.
---
"He's an advocate for the industry. ... The only place I had heard about POET was in his class, which was relevant about making ethanol in general," James said. Biofuels were used as an example to discuss distillation during a Design of Separation Processes course.
---
Chundawat works on cellulosic biomass pretreatments and engineering cellulases for biofuelsrelated applications.
---
"I think it is critical for our society to find a way to include more biobased fuels, chemicals and materials in our economic portfolio to achieve sustainable growth in the decades to come as we slowly wean our society away from using fossilized carbon reserves."
---
"I also think it is critical for undergraduate chemical engineering students to work in the renewable bioenergy industry to help them better understand the challenges and opportunities in the field. These internship experiences also provide students with practical training that complements the theoretical knowledge they gain in classrooms."
---
Since that class in spring 2017, and through his POET internship, James has learned more about the biofuels industry and has a better, more wellrounded picture of the industry, he says.
---
"Generally, the East coast is not well informed about the ethanol industry. I got an entire picture of the industry in three months, from lobbying of E15 to knowing what exactly flex fuel is. I was able to see the positive side of the industry," he said. "It's such a meaningful industry for the U.S. and the world in general as we go toward alternative energy and being green."
---
James plans on either pursuing research in alternative fuels or finding a job within that field after graduation.
---
His main project was redesigning a sulfuric acid delivery system for POET – Bingham Lake. The system will support efficiency and infection prevention at the plant. Another main goal of the project is to improve safety in the plant. He worked on the full spectrum of the project, from the initial idea and determining project changes down to the specifications for the pipes, valves and instrumentation.
---
James was impressed by the level of autonomy he had during the internship. "Usually you don't get to delegate during an internship; you get delegated."
---
He had the opportunity to talk with vendors and be the middleman between the vendors and the POET team to discuss valves, piping and instrumentation. "It was truly a learning opportunity," he said.
---
The importance of safety and safety culture at POET also left an impression.
---
Safety is the top priority of every decision, he noted. "I learned a lot about having a safety mindset. The culture at Bingham Lake is something I've never seen before."
---
Beyond developing a stronger background in process engineering — which he says will bolster his abilities in his course work and his career — James also had the opportunity to develop his soft skills, like leadership and being a team player.
---
"POET is about personal development and being open with your weaknesses and helping others and being accessible. All of those things were valuable as I delve my initial soft skills," James said.
---
"It's a special thing at POET. I've worked in other companies, but they pale in comparison," he said.
HOMETOWN: Seaford, Del.
UNIVERSITY: Rutgers University
YEAR: Senior
MAJOR: Chemical Engineering
INTERNSHIP: Engineering Intern at POET - Bingham Lake

JOHN HELLINGA
DEVELOPING RELATIONSHIPS AS A MERCHANDISER
---
As a merchandiser for POET Nutrition, John Hellinga's favorite part of his job is getting to know people.
---
He talks with some customers on a near daily basis — he knows their kids' names, favorite sports, vacations and hobbies.
---
The best advice that he received from his supervisor, Gregg Koerner, was to think about his work like he's having a conversation with a friend. "It's less about me selling — it's more about developing those one-on-one relationships," he said.
---
He markets WDGS (wet distillers grains, a nutritious animal feed), corn condensed distillers solubles, traditionally referred to as "syrup," and MDGS (modified distillers grains), which are distillers grains partially dried (50 percent dry matter).
---
John works as part of the wet distillers team, which is parallel to the trade group, dry truck, rail team, oil group and others at POET Nutrition.
---
Before he was offered a full-time position as a merchandiser for POET Nutrition, John worked as an intern in a similar capacity. He was already working with the wet distillers team, becoming familiar with the product, and working to understand the customers' needs.
---
"I was actually merchandising," he said. "I've had other internships where it's a struggle to find work for an intern. But as an intern, I worked. I was contributing to the bottom line."
---
John credits clear and open communication with his supervisor for the success of the internship: He landed a full-time job two months into his internship.
---
"It was really clear, open communication — very good mentoring. I felt like everyone was very willing to teach, mentor, explain, no matter who it was — either someone higher up or someone on a different team," he said.
---
The internship was short but productive. "I went into it with the end goal of getting a full-job with POET, and at the very least I want to pick up as many skills as I can so I can go merchandise somewhere else," John said.
---
After some personnel changes, an opportunity opened up for him, and he was hired full-time.
---
"I was extremely thrilled. After being here for two months, it was very clear that POET is a dynamic place to work — [people] like to work hard, like to enjoy having fun but at the same time understand working hard along with working with team members who are similarly focused and have the opportunity to be part of POET and be part of the culture there."
---
John said the internship was valuable to learn about the rhythm of the office without taking on the responsibilities of a full-time merchandiser. "Rather than jumping into the deep end it was a very structured way to take on those responsibilities."
---
Although the route to his full-time job may be atypical — a short but productive internship experience — John feels great about his career path at POET so far.
---
"I feel like I've landed where I belong."
HOMETOWN: Longmont, Colo.
UNIVERSITY: Northwestern College
DEGREE: Business Administration, with emphasis in Agriculture
INTERNSHIP: Merchandising for POET Nutrition
CURRENT FULL-TIME ROLE: Merchandiser for POET Nutrition

---