---
It's not very often that you get to tell the story of helping to rescue elephants from Africa, but for Mark DeVries, it was years worth of work, patience and perseverance to get there.
---
Today, that story comes with a happy ending and six new residents at the Sedgwick County Zoo in Wichita, KS.
---
"This is a very exciting time," DeVries says.
---
DeVries is head of the zoo's board for Wichita's main attraction, and he has been a big part of significant change over the past few years. But he's handled the growth well — his career at POET Ethanol Products has helped him to build the endurance.
---
He's seen a lot of growth there, too.
---
When DeVries was a new employee in 2002, the business was new as well.
---
"I was the 11th or 12th employee," DeVries recalls. "I was there right when it began."
---
Time flies, and today, DeVries is the Vice President of Business Development and International Infrastructure and Projects at POET Ethanol Products, an ethanol marketing company in Wichita, KS, that now has over 150 employees.
---
"It's hard to believe it's the same business," DeVries says. "It was very small when I started, but this has been a great time to build a business from the ground floor up. It's been fun to watch the company grow."
---
Busy, too, as he balances two important roles for the Wichita community. But he continues to persevere, and it makes for a great story.
---
ROLE WITH THE ZOOLOGICAL SOCIETY
---
DeVries has been on the board for the Sedgwick County Zoological Society for 18 years now. He began this endeavor when he was working for Koch Industries back in 1998.
---
"Koch had a representative on the Zoological Society board who I worked with," DeVries explains. "He was being relocated, so he asked me to take his spot. And I did!"
---
He's been with them ever since. Today, DeVries serves as president of the Zoological Society's Board of Trustees, leading a group of 35 community members who help to support and operate the zoo.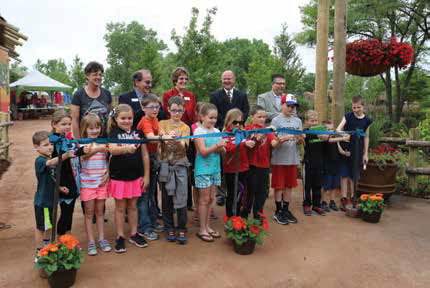 ---
"It's a very unique kind of arrangement that we have with (Sedgwick) County," DeVries explains. "The Zoological Society is a nonprofit that operates the zoo. The county owns all the assets, and we both contribute funding to the operation."
---
DeVries says it's a harmonious relationship and that neither entity could do it alone. "I think the secret to having the quality of the facility that we do have here is our unique partnership."
---
The majority of DeVries' work on the board is "investment discussions," he says. "I'm not out there feeding the tigers or anything."
---
Not that he would mind. DeVries speaks highly of Sedgwick County Zoo, which has brought in over 654,000 guests a year. "We are one of the top zoos in the country, which is really exciting because we are a relatively small city to have this quality zoo," he says. "The community loves it."
---
Sedgwick County Zoo has been serving the Wichita, KS, community for over 30 years now and is home to 3,000 animals of nearly 400 species. It's truly a delightful adventure with exhibits that replicate the natural habitats of the animals, DeVries says.
---
"We've got world-class new exhibits across the board. Our variety of animal species includes lions, gorillas, penguins, tigers and now elephants," he says. "It's all very much a world-class experience, and we are very proud of it as a community asset."
---
CHANGES, IMPROVEMENTS AT THE SEDGWICK COUNTY ZOO
---
The elephants arrived in Kansas in March on a Boeing 747.
---
DeVries was there the day they landed, and he said it was a very exciting moment.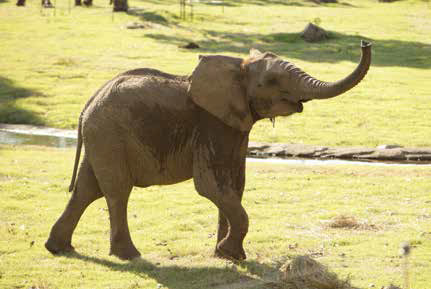 ---
"This was a culmination of five years of intense efforts and planning and work to get them here," he says.
---
To say the least.
---
DeVries says work began years ago when the zoo wanted to improve its elephant exhibit. During this time, there was also a change in regulations from the Association of Zoos and Aquariums (AZA). Sedgwick County Zoo is an AZA-accredited park and needed to abide by new guidelines.
---
"The new guideline required us to have three or more elephants," DeVries explains. "We only had two."
---
Their names were Stephanie and Cinda. DeVries says both elephants were older, "some of the oldest in the country," and it wasn't long before Cinda died. That left Stephanie alone. So, to avoid sending her to another home, the Sedgwick County Zoo began campaigning for a new exhibit that could accommodate more elephants.
---
It worked. DeVries says a fundraiser for the construction of the new facility raised over $10 million, and the exhibit was completed last year.
---
But that was only half the battle. Stephanie needed fellow residents to join her, and so the search began on how to bring in new companions.
---
They found them in Swaziland, DeVries says, a small monarchy in southeast Africa between South Africa and Mozambique.
---
"Through a lot of work with the Dallas and Omaha zoos, we were able to put a permit together to import five or six elephants for each zoo," DeVries says. "We brought a total of 17 elephants from Swaziland, to have in each of our three zoos."
---
It was a long, intense process, DeVries says, but not only did it bring six elephants to Sedgwick County, it was a successful rescue mission. Without zoo directors stepping in, those 17 elephants would not have survived.
---
"These elephants were unfortunately slated to be culled," DeVries says, which is a process that reduces a wild animal population by selective slaughter.
---
"Unlike many other African areas where poaching is a huge problem, Swaziland has in fact too many elephants," DeVries explains. "Because of drought conditions they have there, they have to essentially manage the elephant herd population."
---
DeVries says if those 17 elephants hadn't been rescued within a month, they would've been euthanized.
---
"It's a tragic situation," says DeVries. "In many parts of Africa, elephants are being poached and killed at the rate of nearly 100 a day. But Swaziland is very good about protecting their elephants. There is a need to remove some of them, and we were able to step in.
---
"We're excited to have them here."
---
MEET THE NEW ELEPHANTS!
---
The six new residents of Sedgwick County Zoo are setting in well.
---
"Everything is going great!" DeVries says. "They've spent a lot of time together and are getting acclimated to their new settings."
---
Speaking of their new home, it's officially called the Elephants of the Zambezi River Valley and is the third largest elephant exhibit in the country, says Melissa Graham, public relations and marketing manager at Sedgwick County Zoo. Their outdoor space spans over 5 acres, and they have 18,000 square feet of indoor space as well. They can roam from four different yards that feature waterfalls, a wading pool and rich vegetation.
---
The exhibit opened to the public over Memorial Day weekend.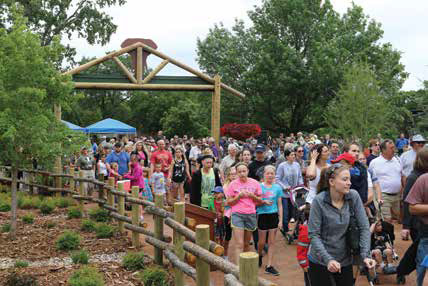 ---
"We are so excited to finally be at this moment," Graham says. "The community has been so supportive of this project, and we can hardly wait to share the experience and these majestic elephants with everyone."
---
DeVries is excited, too.
---
"This project was a big one," he says. "We have a fantastic new exhibit, and the elephants seem super happy here."
---
DeVries says this zoo project had a lot in common with his business development activities at POET Ethanol Products. "This is not dissimilar to a long-term project, where you have to stay engaged and persistent. You got to stay with it."
---
Even though he says it's been a challenge at times to juggle so much positive growth for both his work at POET Ethanol Products and at the zoo, his patience and efficient work ethic has paid off, and the Sedgwick County community will benefit from that.
---
"I enjoy both roles," he says, "so I find the time to do it all."
---