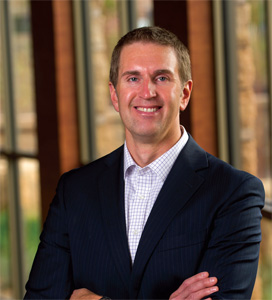 ---
Over the last quarter century, POET has grown from a small plant in Scotland, S.D. producing 1 million gallons of renewable fuel per year to an industry-leading network of biorefineries with more than 1.6 billion gallons of renewable fuel, 9 billion pounds of high-protein animal feed and multiple other products such as corn oil, fiber and more.
---
That growth and innovation wasn't an accident. It's the result of staying true to a couple core principles, which constitute the real the secret of our success.
---
1. We hire the best.
2. We cultivate a culture of success.
---
I've often referred to our team here at POET as "the Yankees without the egos." While some major league teams focus their investment in pitchers or hitters or other specific positions on the field, the Yankees stock every position with the best talent they can find. That's our philosophy at POET as well. We don't just fill seats here; we seek the best for every position, and that has positioned us to be champions every single year.
---
I hope when people think of POET they don't just think of our logo or our brand. I hope they think of a person or team of people that they've had the opportunity to work with. Because those people are what make our company great. At POET, so many people have a role in our products, from feedstock procurement to production, to engineering, construction, marketing, research and every other step along the way.
---
But it's not enough to just assemble the best. We must make sure that talent is focused in the right direction. That's where our culture comes in.
---
We recently reviewed our company's culture, distilling it down to three core values:
---
1. We Always Strive for Excellence
2. We Embrace Change
3. We Aspire to Live by the Golden Rule
---
Striving for excellence is something I see every day in ways both large and small. The most obvious examples of this is in innovations such as BPX, which has helped make us an industry leader in both ethanol yields and energy efficiency. BPX has helped us achieve excellence not only in ethanol production but in the quality of other products, such as Dakota Gold distillers grain and Voila corn oil.
---
Our efforts to reduce water use through Total Water Recovery technology is another great example of how we apply the principle of striving for excellence.
---
These improvements are the result of smart, hardworking people within the POET system who always look for a better way to do things, and their work has created incredible value for our company.
---
Embracing change is a principle we exemplify at POET as well. In many other companies, people do things because "that's the way we've always done things." Doing things "the way we've always done it" has no place at POET. The previous examples I noted could not have happened if people weren't constantly evaluating our current processes and looking for ways to improve. "Change" is a constant at POET.
---
An example of this is our effort to commercialize cellulosic ethanol, which we are now doing as part of a joint venture with DSM. More than a decade ago when the nation was focused almost solely on building out grain ethanol capacity, POET had the vision to not only grow our grain ethanol production, but to also lay the groundwork for processing new feedstocks. That early work positioned us well, and it is exciting to see that vision now coming to fruition through Project LIBERTY, which will open next year.
---
The final principle, "We Aspire to Live by the Golden Rule," is one that must be evident in every interaction every day. To reach their full potential, people must be treated with respect, so we strive to do unto others as we would have them do to us.
---
I know our team members embody this principle. I hear feedback from customers, suppliers and others about the genuine and positive people they meet from POET.
---
We recently had 15 team members take a mission trip to Kenya to build a greenhouse for a girls school. Our POET team held fundraisers and spread awareness about the project, and they're devoting their own time, talent and hard work to help make the world a better place. And every plant strives to give back to its own community in some way, through outreach, fundraisers and more.
---
I'm proud of what POET has become in the last 25 years. What we are is no accident. It's the result of bringing the very best people into this company and creating a culture where they can thrive. I tell interested candidates that POET isn't for everyone. You need to fit our culture and be high-performing to succeed here. The team we have in place has proven that it knows how to succeed, and I know it will take us to even greater heights in the future.
---