---
Larry Ward knows a thing or two about being a team player. That was certainly true as an undergraduate at Minnesota State University, when he was chosen for the All-American hockey team. Some of his scoring records still haven't been broken.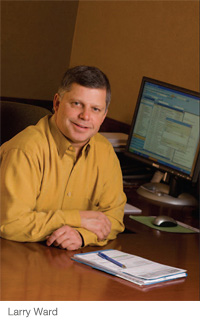 ---
His achievements didn't end when he stepped off the ice. During more than a decade at POET, Ward has played a key role in establishing more than 27 ethanol plants. Today, as Vice President of Project Development for POET, he draws upon vast expertise to help his team navigate the complex process that each new plant entails.
---
Prior to joining POET, Ward worked for about 15 years at an agricultural processing business, which handled livestock feed and pet food manufacturing. While there, he served in a variety of roles, from marketing to management. That versatility helped set the stage for his career path at POET.
---
"I've joked with [CEO] Jeff Broin in the past that I've had a hard time holding a job in the company," says Ward, referring to the multiple positions he's held at POET. He began in 1997 as the General Manager for POET Biorefining – Bingham Lake, Minn., but his role at POET quickly expanded. That included work on finance and legal organization issues, some political activities, as well as communications and project development. "As we've grown and evolved, we've added VPs in different areas. But at one time, Larry was really my right-hand man for just about any issue that came up," says Broin.
---
In his current position, Ward helps guide the project development process. "It's a large challenge, and Larry definitely enjoys a challenge," says Broin. "Every time we go out to build the next ethanol plant, we're looking for the best site on the planet." Ward and his team must consider a complex array of criteria, including corn availability, road access, rail infrastructure, natural gas infrastructure, and the quality and quantity of local water.
---
But that's just the beginning. After selecting an ideal site, the development team faces a new layer of challenges. "We're essentially the first ones on the ground, and we develop the project until we can deliver it over to engineering," says Mike Roth, Director of Site Development at POET. That means conducting due diligence for rezoning, gaining local support by working with the city council and county government, and dealing with local utilities and railroads.
---
With so many variables to consider, Roth says he's glad to have Ward as a reliable resource. "He has a very unique perspective," says Roth. "When you go to him with a concern about a project, he knows exactly what you're talking about. He's been there before. He has the ability to give you additional tools for your toolbox. He'll say, 'Here are three or four steps you can try. It's something I've used before.'"
---
Ward also has a reputation for thorough preparation. His colleagues note that he always arrives at board meetings armed with financial data and spreadsheets. He's known for uncanny attention to detail. "I can go over projects several times to make sure everything is perfect, all the questions answered," says Roth. "I take it into Larry, and he has the keen ability to ask questions that I had never thought of.
---
"He's really able to generate solutions by looking at the details," says Roth. "He's always very supportive and understands what you're doing. He's the kind of guy who has your back."
---
During his time with POET, Ward has demonstrated his ability to take both a micro and macro view of business issues, and to effectively convey those views to others. "He's a fantastic communicator. It may be one of his strongest suits," says Broin. That's critical in project development, where success can hinge upon relationships with government officials and the support of the community in general. Adds Broin, "He's just really good at dealing with people."
---
Clearly, it's an aspect that Ward enjoys. "When you take a look at each [project] as it evolves, the thing that is kind of fun about project development is the personality that each one takes on," he says. "Each one is in a different location, each one has different people in different roles surrounding it."
---
Throughout the process, a common denominator remains: Ward's ability to foster a cooperative spirit. In college, that focus on teamwork helped him move the puck across the goal line. Today, it helps POET bring plants to the finish line, with an emphasis on staying power. "We take a look at [project development] from a very strategic perspective, so we're putting plants in places that we believe are going to be successful long term," he says. Just like his hardwon hockey records, Ward hopes the results of those project development efforts are built to last.
---