---
COUNCIL BLUFFS, Iowa—During his visit to a renewable energy facility on Tuesday, June 11, President Trump celebrated his administration's approval of year-round access to E15 and what the ruling means for the American economy, the agricultural industry and American energy independence. The Environmental Protection Agency (EPA) approved year-round sales of E15 — a fuel blend with 15 percent ethanol — a little more than week earlier, expanding access to the clean-burning fuel in time for the summer driving season.
---
"Today we honor America's cherished farming heritage. We salute your commitment to American energy independence, and we celebrate the bright future that we are forging together, powered by clean, affordable American ethanol. Congratulations, congratulations. I fought very hard for ethanol, and you proved me right," Trump said.
---
Calling the prior restrictions on E15 "ridiculous," Trump heralded year-round E15 sales as a milestone and a hard-fought win that will help power American jobs and bolster a lagging farm economy.
---
Trump sang the praises of farmers to a captive crowd of hundreds of producers, ethanol producers and stakeholders at the Southwest Iowa Renewable Energy (SIRE) ethanol plant as part of a multi-stop victory lap in Iowa. His remarks highlighted the integral role of the American farmer in U.S. history and Trump's continued commitment to farmers.
---
"Last year I came right here to Iowa and announced that my administration would open up the sales of E15 year round, and now I've come back to announce that just days ago, we officially lifted the restrictions on E15 just in time to fuel America's summer vacations. We just made it."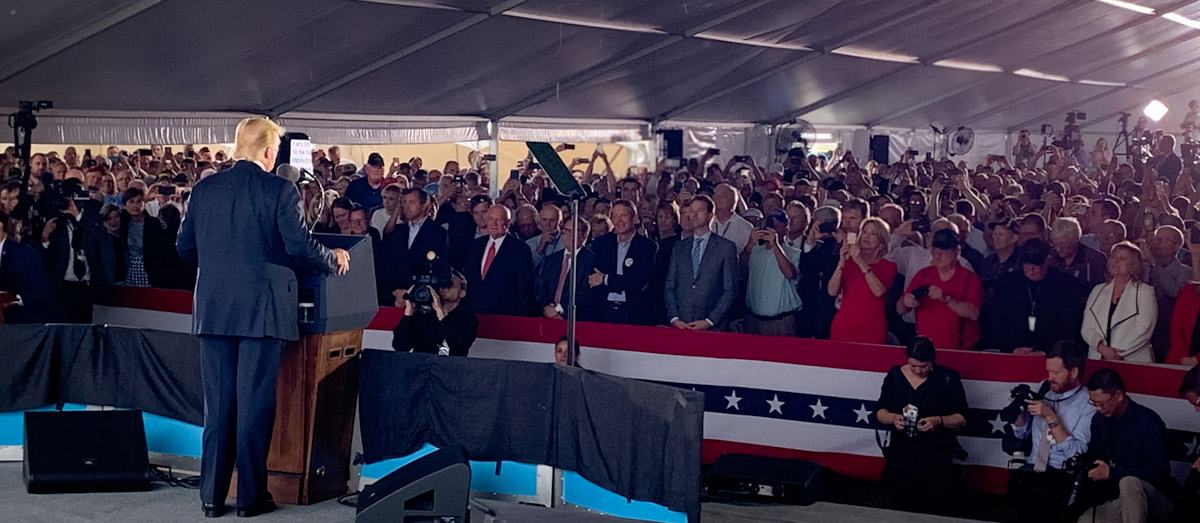 ---
Trump noted that E15 sales are expected to more than double this year. Nationwide adoption of E15 is expected to drive production of 7 billion gallons of biofuels, creating an additional demand for 2 billion bushels of corn each year and unlocking new domestic demand for homegrown fuel at a pivotal time for America's farmers.
---
Trump was joined by EPA Administrator Andrew Wheeler and U.S. Secretary of Agriculture Sonny Perdue, along with Iowa Gov. Kim Reynolds, Sen. Joni Ernst (R-Iowa), Sen. Deb Fischer (R-Neb.), Nebraska Gov. Pete Ricketts, Iowa Secretary of Agriculture Mike Naig and many other elected officials from the region. As part of his Iowa stops on Tuesday, Trump attended two Iowa GOP events in Des Moines: a social that was sponsored by POET and an Iowa GOP dinner.
---
Trump has visited Iowa ethanol plants before. As a candidate in 2015, Trump toured POET Biorefining – Gowrie. POET, along with biofuels trade association Growth Energy, has spearheaded efforts in the decade-long fight to secure year-round E15. POET CEO Jeff Broin has had numerous meetings with President Trump and members of his cabinet to discuss the importance of lifting restrictions on E15.
---
Broin had the opportunity to personally thank the President at Air Force One when he landed in Des Moines for following through on his campaign promise to secure year-round E15. Broin expressed that year-round E15 wouldn't have happened without the support of the White House and discussed other issues important to the industry.
---
Jim Gregory farms 4,000 acres near Tabor, Iowa, and showed up at the event in support of Trump. "I'm happy with Trump and what he's done for farmers. What made this country great was the farmers; ethanol is good for the whole country and the economy. I think it's a great product, and it has done wonders for this country."
---
POET employee Julia EllensohnColon traveled to the event from the POET headquarters in Sioux Falls, S.D. A self-described "farm kid" who was raised on an Iowa farm, she was pleased that Trump followed through on his promise to deliver on E15. She was impressed with his remarks and said he did a great job of representing the American farmer at the event. "He said, 'I'm going to do this,' and he did it. He came here after it happened. He's going to continue to represent the American farmer."
---