---
In his senior year of high school in Shickley, Clark Schultz watched the bioethanol plant rise up from the corn fields in the neighboring town of Fairmont in southeastern Nebraska. Nearly a decade later, after earning a college degree in biochemistry and working in pharmaceuticals, he returned to his home territory to begin work as a bioethanol lab tech at the bioprocessing facility. With his background in the manufacturing of painkillers at one job and making controls for hematology and urinalysis equipment at the other, he was familiar with strict laboratory protocols and regulatory compliance.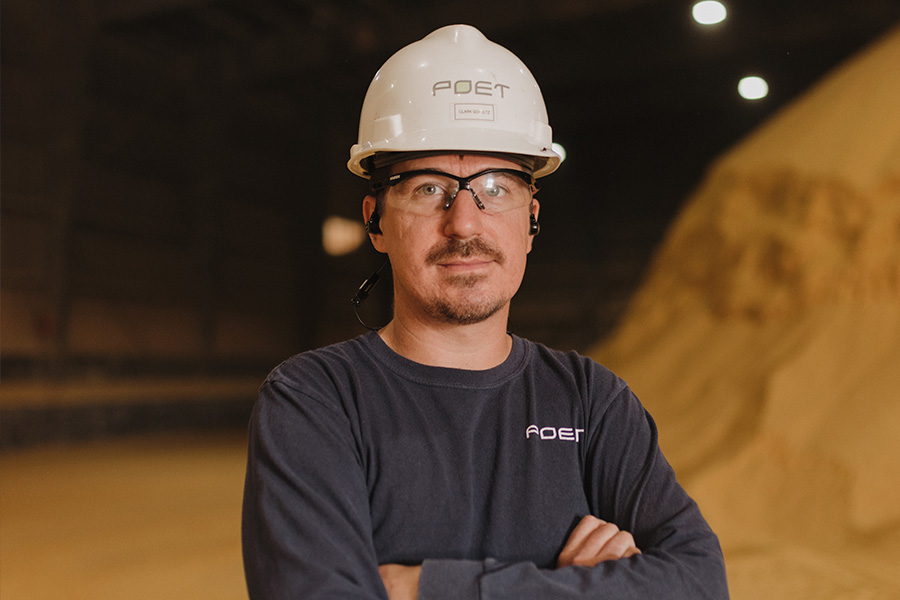 ---
That was 2016, when the plant was still part of Flint Hills Resources and the Food Safety Modernization Act (FSMA) was new — introducing hazard analysis, safety planning and new record keeping requirements for all manufacturers of animal feed ingredients. Within a year, Schultz was promoted from a tech working in the lab to quality manager.
---
"Quality managers were responsible for the implementation of FSMA, and when I went to that training, it clicked," Schultz says, thanks to his previous experience. "When I got back to the plant, I said we need to implement this and this. I actively got involved with teams that were implementing the program. I immersed myself in the law under FSMA, read it, and explained it to people. I jumped right in out of my own personal interest. I also saw the importance of protecting our customers and also in protecting the company, its name, and the brand."
---
At the same time FSMA was being implemented, Schultz adds, the facility was installing and fine tuning a system to make a new high-protein feed ingredient trademarked NexPro. "I helped build out the systems, determined sampling points, set up equipment, wrote procedures, and worked with commercial partners to develop the quality specifications that would mean something to our customers."
---
David Gerhart, Plant Manager at POET Bioprocessing – Fairmont, says that Schultz's dedication to his role did not go unnoticed by the team.
---
"Clark started as a shift technician and worked his way to the lab manager," says Gerhart. "Now he is in a fleet role. He is always striving for continuous improvement, which is an incredibly
valuable characteristic."
---
After the transition to POET ownership of the Fairmont facility last year, Schultz became part of the team working on the next step in quality assurance. Fairmont was among the first bioethanol facilities to achieve the Food Safety System Certification, an internationally recognized food safety program with comprehensive requirements.
---
"It consumed a large majority of our time in the past year to get that certification, says Schultz.
---
The certification allows POET Bioprocessing – Fairmont, and its sister facility POET Bioprocessing – Shell Rock, to expand their NexPro feed into new markets with significantly higher quality requirements than those for traditional distillers grains.
---
Food safety, Schultz admits, has become his passion, one that he's applying to a new role at POET Bioproducts as a Regulatory Affairs and Quality Control Specialist. He looks forward to continuing to encourage the necessary mindset — from considering grains coming out the back end of the bioprocessing facility as byproducts in the early years, to coproducts, and now food and feed ingredients. "We're really trying to shift the mindset into a food safety focus," he explains. "It's getting people to think about the product and how it could ultimately affect an animal or human."
---
"In my new role, I'm looking forward to building out our food safety program and going site to site and helping with training people."
---
According to Gerhart, Schultz never misses an opportunity to help out his team. "Clark is always willing to pitch in and help wherever needed, whether it's on the job or in the community. Whether it's planting trees for Earth Day or working at the county fairs, he is a team player and shows great respect for whatever task he is performing."
---
Schultz will continue to be based out of Fairmont in his new role, which is ideal considering he and his wife, Theresa, built a new house on 13 acres in the country. "We moved into our house three years ago, and a week later had our daughter, Evelyn," adding they had twins, Edison and Olive, a year ago. "We like to stay busy," he laughs. This spring, Schultz planted fruit trees and berry bushes on the property, with a garden on the drawing board. He also tends goats, ducks, and chickens on the hobby farm.
---
Schultz appreciates POET's interest in community involvement. "On Earth Day, I went to my daughter's daycare in the school where I went to high school, and we gave dirt cups to the three-year-olds and planted soybeans in these little greenhouses. Having the time and opportunity to do things like that in the community is fun and rewarding. POET even has a grant program where we gave some grant money to my hometown to help build a park playground. Seeing the company I work for do that in the community where I grew up means a lot to me."
---