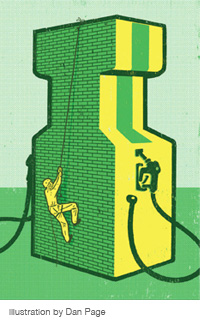 ---
When the Energy Independence and Security Act, which required the consumption of 36 billion gallons of renewable fuels by 2022, was passed in the House in December 2007, Speaker Nancy Pelosi (D-Calif.) likened the momentous event to the start of the Revolutionary War.
---
In her emotional speech to Congress, she referenced the famous line from Ralph Waldo Emerson's "Concord Hymn" describing the first shot of the Revolutionary War. "This vote on this legislation will be 'a shot heard 'round the world' for energy independence for America," she said.
---
But just one year later, that hope for energy independence is being tested. As early as this year, experts say, the ethanol industry will hit what has been dubbed the "blend wall," or the point at which supply exceeds demand because current federal law allows no more than 10 percent ethanol per gallon of gasoline for non-flex-fuel vehicles. Those laws exist despite a growing mountain of research that shows blends of up to 20 percent or more are safe and effective for conventional motor vehicles.
---
Saddled by the 10 percent ceiling as production capacity outgrows the E10 market, the industry faces a reality that, if left unchecked, will have a profound effect on both the future of ethanol as America's leading biofuel and our national quest for energy independence.
---
"The blend wall is the next serious roadblock that can threaten our ethanol infrastructure in this country," says U.S. Rep. Stephanie Herseth Sandlin (D-S.D.). The consequences of the blend wall, she says, will include a slowdown in the development of new plants, the closure of some existing plants, job losses and a sharp reduction of capital investment in the industry at a critical juncture. As a result, the industry is now at a turning point: Either it will move forward to fulfill its potential of eradicating our nation's dependence on foreign oil, or it will fall behind.
---
A Regulatory Cap
---
Breaking down the blend wall will not be impossible, but it will be difficult. And there's no time to waste.
---
In market terms, for 2008, U.S. gasoline sales were expected to reach 140 billion gallons. Limiting the ethanol blend to 10 percent creates a regulatory cap of 14 billion gallons of ethanol that can be used in the current U.S. gasoline supply. Because it is impossible to penetrate every single gallon, in reality, that cap is closer to 12.5 billion gallons.
---
"In 2009, with all the plants open that are now under construction and with our current fleet of vehicles using a maximum of 10 percent ethanol, we just can't use what we make," says Ron Lamberty, Vice President and Market Development Director at the American Coalition for Ethanol (ACE), based in Sioux Falls, S.D. "So we are going to have to make some kind of change fairly quickly."
---
The Battle Over the Brazil Tariff
---
While U.S. gasoline blenders get a federal tax credit of 45 cents for every gallon of ethanol they use—domestic or otherwise—a corresponding tariff of 54 cents is charged for imported ethanol from Brazil, the world's No. 2 producer after the United States. The underlying intent of the tariff is to reinforce Uncle Sam's much-touted commitment to the health and well-being of the still developing domestic ethanol industry. However, some members of Congress, along with certain states such as Florida, are fighting to lift the tariff. They see it as an opportunity to increase business at local ports and reap other perceived benefits. To lift the tariff now, as ethanol producers confront the blend wall, would be a disaster, say lawmakers such as Sen. John Thune (R-S.D.) and Reps. Stephanie Herseth Sandlin (D-S.D.) and Collin Peterson (D-Minn). "The politics of all this is such that there is a lot of support in Congress for lifting the tariff," Sen. Thune says. "But I think the real motive is that the oil-producing states, in particular, have always wanted to destroy the domestic ethanol industry, because it represents the only real competition for gasoline. And lifting the tariff would damage the domestic industry." Adds Peterson, "We need to do it in order to be able to make all the things happen that need to happen in order to support our domestic ethanol industry."
---
Essential to moving the cap is first understanding the root of the issue. Section 211 of the Clean Air Act (CAA), originally passed in 1963 and last formally amended in 1990, prohibits producers from introducing fuel or fuel additives—for general use in light-duty motor vehicles manufactured after 1974—that aren't "substantially similar" to the fuel used to certify those vehicles. In 1982, the U.S. Environmental Protection Agency (EPA) issued an interpretive ruling that allowed gasoline blends of up to 10 percent ethanol for conventional motor vehicles. Since then, no action has been taken with regard to the ethanol blend percentage for gasoline used in conventional motor vehicles.
---
POET Vice President of Government Affairs Rob Skjonsberg, along with other industry leaders and some members of Congress, argues that unless the E10 blend wall is shattered soon, the ethanol industry will begin to fail to comply with the RFS.
---
"The federal government has a rule in direct contradiction with its law," Skjonsberg says. "Science supports a move up to E20. We need tocut through this red tape as quickly as possible."
---
Finding a Fix
---
Fortunately for those attempting to break down the blend wall, a solid and growing body of scientific research has concluded that midlevel blends of 15 to 20 percent ethanol are safe and effective for conventional motor vehicles.
---
A preliminary joint study announced in October by the U.S. Department of Energy (DOE) found that when E20 was injected into 13 different late-model vehicles not designed to run on more than 10 percent ethanol, tailpipe emissions were similar to E10 levels. In addition, exhaust and catalyst temperatures were largely unchanged.
---
Those and other findings should be key to convincing lawmakers to act quickly. It is an extremely serious matter, says U.S. Sen. John Thune (R-S.D.). "We need for policymakers in Washington to understand the sense of urgency behind this issue," he says.
---
One solution is by EPA waiver, a process that, by law, can take up to 270 days. In order to increase the blend percentage of ethanol, a producer can apply for a waiver of the Section 211 provision.
---
Another tactical option to address the blend wall is amendment of Section 211 of the CAA to allow higher blends of ethanol, such as E15 and E20, by federal law, says Brian Jennings, Executive Vice President of ACE. However, because of opposition to ethanol in some quarters of Congress, particularly from oil-producing states, that could be a risky proposition. As a result, an emerging ethanol industry consensus believes that a waiver is the way to go.
---
Still, any action by the EPA would be contingent upon the results of a broad body of research now under way on behalf of the DOE, along with universities and other private sources, at the Oak Ridge National Laboratory in Tennessee and National Renewable Energy Laboratory in Colorado. Neither the EPA nor the DOE will speculate on when that research might be completed.
---
The industry has relied strategically on an important precedent set by Minnesota, says Bob Casper, President of POET Ethanol Products, a Wichita, Kan.-based company that distributes and markets ethanol from plants to blenders and end-users. In 2005, the state passed legislation requiring that all gasoline sold there contain 20 percent ethanol by 2013. By and large, the industry elected to wait and see how EPA waiver applications from ethanol producers in Minnesota would be received. Unfortunately, Casper says, that process has now taken more than two years. In the meantime, the industry has collided with the overarching issue of the regulation blending limit.
---
Lawmakers such as Thune and Herseth Sandlin, as well as U.S. Rep. Collin Peterson (DMinn.), say the most viable solution might be expedited permission from the EPA to increase ethanol blends to 12 to 13 percent while the waiver process for E15 or E20 blends runs its course. In late September, Thune hosted a Capitol Hill meeting attended by the EPA, DOE and the U.S. Department of Agriculture (USDA), as well as a half a dozen senators from ethanolproducing states.
---
"We tried to press the EPA, DOE and USDA as hard as possible, and convey to them in no uncertain terms what it's going to mean to this industry if they don't start taking steps to go to blends of 15 and 20 percent once their studies are done," Thune says. "But we also need to start moving in that direction incrementally with blends of 12 or 13 percent, which are substantially the same as E10."
---
Meanwhile, the EPA declines to comment specifically on any aspect of the waiver process, calling its discussion premature until DOE testing is completed. Some members of Congress, including Peterson, detect a deeper significance in the EPA's failure to act aggressively. "EPA is clueless," Peterson says. "They've got people in there that have a different agenda because they don't like ethanol." The EPA denies the charge, insisting it is acting in the interests of the public and energy industry stakeholders, such as automobile manufacturers.
---
The Long-term Outlook
---
Regardless of any unwillingness by the EPA or political opposition in Congress, Thune, Herseth Sandlin and Peterson are confident that the blend wall challenge will be met. The national security and fiscal interests of the United States are increasingly dependent on breaking the country's $700-billion-a-year addiction to foreign oil, they say, and increased use of ethanol is one proven, safe way to reduce consumption and capital flight.
---
Industry leaders such as Skjonsberg and Lamberty point out that in the long run, increased production of flex-fuel vehicles that consume fuel blends of ethanol up to 85 percent, as well as flex pumps that allow consumers the freedom of choice to use blends as high as 30 percent ethanol in conventional vehicles, will drive the industry's bright future. In July, Sen. Samuel Brownback (R-Kan.) and five co-sponsors, including Thune, introduced the Open Fuel Standard Act of 2008, which would require 80 percent of automobiles manufactured or sold in the United States to be flex-fuel vehicles. As of press time, the bill was yet to be voted on.
---
In the meantime, the immediate threat of the E10 blend wall must be beaten back.
---
"There is no question in my mind that we are going to scale the blend wall," says Skjonsberg. "It's only a matter of how—and who is going to be with us when we get it done."
---