---
When Deb Roth was hired as POET's lab tech – and one of its first employees – in 1988, her job required her to do a little bit of, well, everything.
---
"Deb was one of the first people we hired way back when my family opened the Scotland (S.D.) plant, and we all took on every job that needed to be done," says POET CEO Jeff Broin. "Deb and I worked together every day for 10 years, and she did everything from getting knee-deep in cooling tower waste to running the highest tech equipment we had."
---
Now, 23 years later, Deb is one of the longest-tenured employees at POET.
---
"I'm one of the few people who has worked here longer than Deb," says Broin. "I believe you need to have a lot of talent, you need to have a great attitude, and you need to have a lot of passion to be part of the POET team. Just think how strong those qualities have to be in Deb for her to be part of this team for 20-plus years."
---
For Deb, the multitasking and on-the-job opportunities have made her career at POET seem shorter, she says, than two decades.
---
"Has it really been that long?" she asks, laughing. "It's amazing when I think back at all of the changes over the years, and how many things I've had a chance to be part of. I've worked on quality control. I've worked on plant safety. As new ethanol plants were built by the Broins, I traveled with them to help with plant startups and training of the lab techs. I've been lucky to be given so many opportunities. It sure doesn't seem like 23 years."
---
Today, Deb is still recognized for her willingness to take on any job, all while keeping on the cutting edge of ethanol technology.
---
"Deb does whatever needs to be done," says Dave Bushong, General Manager of POET Research Center in Scotland. "It doesn't matter if it's scooping up corn that's spilled on the concrete; she's out there scooping up corn. She's a hands-on, lead-by-example person."
---
The surroundings have grown–the Scotland plant now has 50-plus employees, and the original "closet-size" lab is now a state-of-the-art facility. Deb's day-to-day responsibilities have also grown–she now serves as Research Lab Manager and oversees five lab technicians.
---
But the traits that Broin recognized in Roth–a willingness to be a team player, a natural curiosity, and a strong work ethic–continue to drive Deb's success at POET.
---
Those traits were ingrained at a young age for Deb, who grew up as a "typical farm kid" on her family's crop and cattle farm in Wagner, S.D.
---
"We kids worked on dad's farm," she says. "Four of us grew up together and we all drove the tractors pretty young. We walked the beans and pulled weeds and did the things that instill a good work ethic."
---
After high school, Deb "was determined to make enough money to attend college." And she did, sometimes working two jobs as she earned a Biotech degree from the University of South Dakota.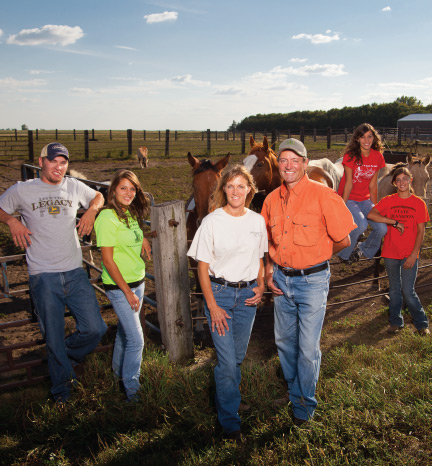 ---
Today, Deb is passing on that work ethic to her kids–Levi 19, Mariah 17, Sasha 15, and Cheyanne, 12. Deb and her husband, Terry, live on a farm just a few miles from Scotland and raise corn, beans and cattle.
---
"Last fall, all six of us worked the harvest together," Deb says. "The whole family was out there driving the equipment, with the youngest riding along. It was a great family moment. It brings the family together when you're working for a common goal."
---
In addition to crops and cattle, the Roths also raise hobby animals and pets.
---
"We've got six horses. I don't think it's enough, but my husband thinks it's too many," Deb says. "We also have a miniature donkey, a miniature horse, a dog, a cat, rabbits, and a pet rooster named Roy–I've got to mention him."
---
Steve Lewis, Chief Science Officer at POET Research knows firsthand about Deb's drive to move ethanol technology forward.
---
"Deb has been on the front line of many new technologies introduced by POET," says Lewis, who has known Roth for 20 years. "She cares about what she does. She has a real curiosity and she's willing to question everything, even the accepted dogma."
---
Lewis points specifically to their work on the BPX process–a method created by POET that refines ethanol more efficiently by bypassing the long-accepted technique of cooking the corn mash.
---
"When we first questioned that cooking process, it was more of an intellectual curiosity," says Lewis. "The industry and experts said you had to do things a certain way, but Deb was willing to go along with me and test whether that was the right way. Deb was vital in helping to demonstrate the viability of the technology. We couldn't have demonstrated it without Deb. She's seen – and driven – more change in this industry from the process side than just about anyone else."
---
Today, the BPX process is the cornerstone of POET's proprietary, patent-pending technologies for ethanol production. The method is now practiced in 25 of POET's 27 plants.
---
"I love being part of the research process and implementing new technology, it's my favorite part of the job," Deb says. "But this is such a great group here that, no matter what, it makes me want to come into work every morning. We're like a family here, and it's a family I've had the privilege to be part of for 23 years."
---
For Jeff Broin, Deb's hiring was meant to be.
---
"It's like the stars aligned," Broin says. "We got a great person and she got a great opportunity. I don't see her as often now, but when I do we both smile and talk about more than just the latest developments at POET Research Center. We talk about the old times and how our kids are doing. She's been here basically since the beginning. Deb was one of the first people that we trusted when we were expanding our family business, and she became like a member of the family."
---