---
It's an organization that encompasses 27 biorefineries in seven states, buys 570 million bushels of grain that will provide feedstock to produce 1.6 billion gallons of ethanol per year.
---
For Dean Watson, POET Grain, the entity that buys grain for POET's 27 biorefineries, represents something much bigger, and much more important than just numbers.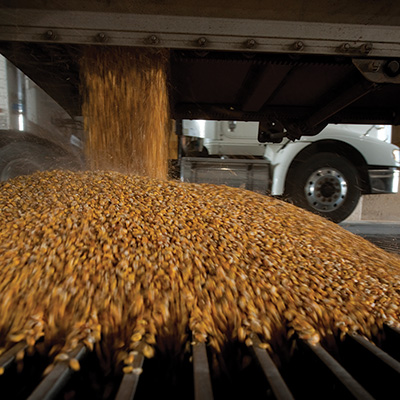 ---
"POET Grain is a capability, a thought process, a culture," says Watson, who joined POET Ethanol Products in 2006 and took over as president of Wichita-based POET Grain in early 2014. "POET Grain is about the 27 biorefineries working together to make our entire company better. It's about serving our customers better."
---
While the seeds of POET Grain date back nearly a decade, POET decided the time was right in 2013 to make a major move – a move they hoped would strengthen the company's biorefining business by consolidating grain buying from 27 entities to one.
---
The process has not been easy, and has required everything from implementing new accounting practices to revamping existing corn bidding methods to communicating these changes to a customer base of thousands of grain sellers.
---
"I'm extremely proud of the way our commodity managers have embraced the teamwork aspect of POET Grain," says Wyatt Haines, POET's Vice President of Financing Strategy. "We keep working on building that local producer relationship. It's a vision for the future that benefits investors, employees and producers."
---
That effort has already yielded positive results for POET– things like more efficient use of capital, utilization of specialized resources, greater market opportunity and diversified grain portfolio returns.
---
Those tangible results – things like a more analytical approach to the market when it comes to buying grain – continue to improve, according to Watson.
---
"We're seeing a culture shift," he says. "We've seen a difference in how we are approaching the market, in the details, in the thoughtfulness we are putting into the bidding process."
---
Those involved with POET Grain have also seen something less tangible, but maybe more important – an increase in communication not only across the company, but also with their customers, the farmers.
---
Just as important to POET, the new system should benefit the farmers who bring bushels to those biorefineries, sometimes from 100 or more miles away. In a business in which grain buyers would normally be considered customers, POET has long taken the opposite view and treated the grain sellers – the farmers – with the highest level of customer service.
---
"This is a relationship business," says Watson. "POET Grain allows us to communicate better with farmers. Instead of just saying 'This is our price,' we can also explain why it's our price, and they appreciate that straightforwardness.
---
For our customers, we hope to create a tremendous amount of value."
---
Today, a full biorefinery doesn't have to turn away potential grain sellers. When it comes to buying those 570 million bushels of grain per year, POET Grain's new structure allows the company to communicate with each biorefinery to provide information like overall market conditions and ethanol margins. They can trade grain into secondary markets or – and they've already seen examples of this – move bushels from one POET facility to another, which is a win/win scenario for both POET and the producer.
---
"In many ways, I think POET Grain has improved our organization," says Steve Seabrook, Vice President of Commercial Relations at POET. "Our ability to work as one group has allowed us to build an even higher level of trust with our most valued customers, the farmers. And, the best part is, we're just getting warmed up."
---